Hello everyone.
As it is the last day of the decade I just thought I would take a bit of time to thank everyone that has supported my little craft business over the past few years. If you have bought anything from me at a craft fair, commissioned me to make something for you, liked or commented on any of my blogs or facebook posts, bought from my online Stampin' Up! shop or given me your support in any other way then these cards are for you…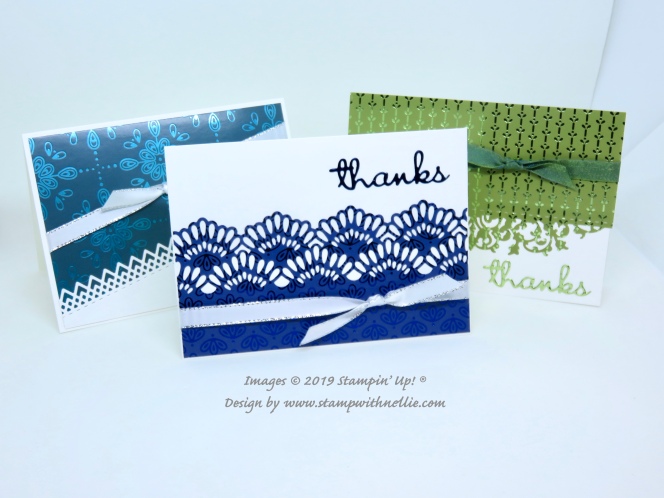 I truly appreciate everyone that takes time to read my ramblings! Lol.
For these 'easier than they look' thank you cards I combined the 3 designs in the Noble Peacock Speciality Designer Series Paper (DSP) with the 3 dies in the Delicate Lace dies set.
Here's a closer look at the Old Olive version…
I used Whisper White thick card for all of my card bases measuring 21 x 14.5 cm, scored and folded on the long side at 10.5 cm to create landscape tent folds.
I cut a piece of the DSP to measure 14.5 x 9 cm and then cut the bottom of it with a Delicate Lace dies. I added 2 pieces of Old Olive/Pretty Peacock reversible ribbon to the back and tied them in the front in a double knot. I then added this to my card, along with the 'thanks' die cut. This die is part of the Well Written set. I used the Noble Peacock foil for these die cuts.
Here's my Blueberry Bushel version…
For this one I used Silver Metallic Edge Ribbon but the rest of the method is pretty much the same, just using a different pattern DSP and die from the Delicate Lace set.
Finally, here's a closer view of my Pretty Peacock card…
For this one I cut a piece of the DSP to measure 10 x 14 cm and used the Delicate Lace die to cut the edge of a piece of Whisper White card at an angle. Again, I used the Silver Metallic Edge Ribbon and the 'thanks' die cut. I added some Noble Peacock rhinestones.
The fabulous foil and beautiful dies do all the hard work for you so these cards really are simple to make but have a bit of a wow factor.
I hope you've enjoyed these cards as much as I enjoyed making them. Now I really must write them and pop them in the post!
I've listed the products I've used below and you can click on the links to visit my online shop. I really would love to be your demonstrator. Everyone that shops with me receives one of my thank you packs each month – so you might even get one of these cards.
Happy Hogmanay,
Heather x
Product List