Hello!
This is my last Project Share Project post of 2019 so I thought I'd take a look back and share some of my favourite projects from my fabulously talented friends, Gez, Verity and Jill.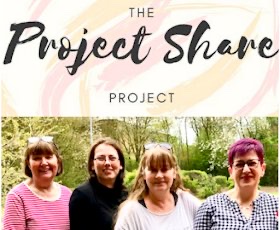 First up is this simply beautiful card made by Jill of www.paperdaisycrafting.co.uk
You could use this card with almost any sentiment and colours and it would still be perfect. Please click here to visit Jill's blog post from February to find out more about this card, including her inspiration. It's a nice excuse to remember spring.
Next is this amazing mini album project from Gez of www.nigezza.co.uk
This one little photograph can't possibly do justice to the amount of work involved in this project so here's a couple more…
Please click here to visit Gez's blog from June to see even more photos of this fabulous album and to watch her video tutorials. Although the papers Gez used for this project are no longer available it would look awesome with any other papers too.
And last, but most definitely not least is this stunning card from my lovely friend Verity of www.inkybutterfly.wordpress.com where she has used one of my favourite stamp sets from the Annual catalogue…
Please click here to visit Verity's blog post from July to learn all about this beautiful vintage look card.
Now I have to say that it was really tough to pick just 1 projects from each of these talented friends from a whole year. I have enough trouble picking just 1 each week. If you haven't already subscribed to their blogs, YouTube channels and Facebook pages please do.
Happy crafting,
Heather x