Hello everyone.
Today I have a really fun gift box to share with you. I've made square and rectangular so called impossible boxes in the past and I wanted to see if I could make a hexagonal one this time and here it is….
Here's the other side of it…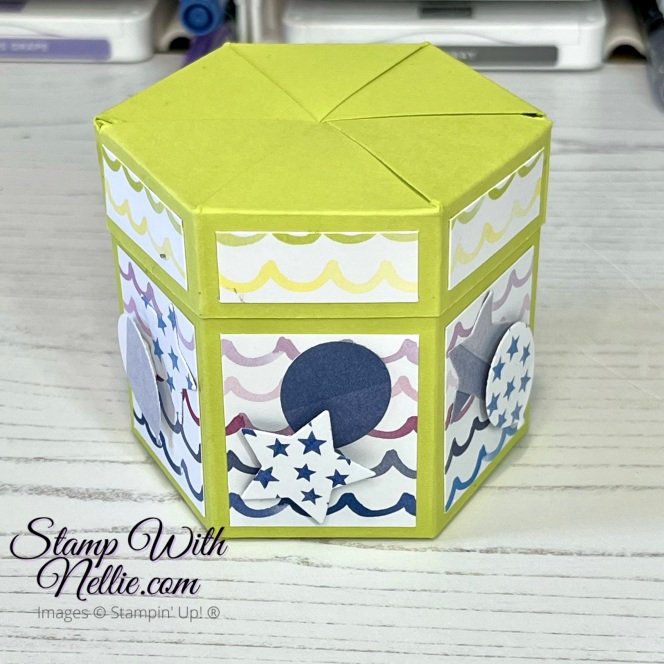 And here's how it opens….
I recorded a video to show you the original box in more detail and then made another one. I've love you to check out my video by clicking on the image below:
Or you can watch the video over on YouTube by CLICKING HERE and you can give me a thumbs up and leave a comment too.
In my design process I had been playing around with different sizes and making sure the mechanism would all fit together and when I got to the end result I hadn't realised that I could get the main box from one piece of card so my directions and video use 2 pieces. However, I suspect that the closure may work better this way so I stand by this method, lol!
To make this box in the video you'll need the following supplies:
2 pieces of Azure Afternoon card each measuring 7-3/4″ x 5″

score on the short side at 1-1/2″, 3″ and 4-1/2″
score on the long side at 1-1/2″, 4″, 5-1/2″ and 7″

a piece of Azure Afternoon to punch 2 x 2-3/8″ circles to reinforce the base
Bright & Beautiful designer series paper trimmed to the following sizes:

6 pieces =1-1/2″ x 1-1/4″

Scraps of Bright & Beautiful DSP to die cut the stars and small balloons to decorate
a scrap of Basic White card to stamp the sentiment and die cut
ribbon
The finished boxes measures 3″ x 2-3/4″ x 2-1/2″ when it's closed, so you could add in all sorts of little gifts!
Here is the box I made in the video alongside the original one…
The box I made in the video got a little bit misshapen, so please take your time when you glue to the base pieces together. Learn from my mistakes!!
I hope you like this gift box will give it a try too.
Shop the products
I've listed the products I used for both versions of today's box below. You can click on any of the links in the Product List to visit that item in my online Stampin' Up! store. The Beautiful Balloons stamp set and dies can be purchased separately, but if you buy them as a bundle you'll save 10%. I've shown both options in my Product List below.
When you shop with me you'll receive a handmade card and gift as a token of my appreciation. If your order is under £150 please use the current Host Code so that I can add in a free product to your customer thank you pack for the month. Find out more on the Host Code page in the main menu.
Happy crafting,
Heather x
Product List