Hello! I hope you are well.
A few days ago I shared some cards that I made with the Petal Park bundle and mentioned that I thought they'd make a lovely gift if I also made a box for them. In case you missed the cards you can click here to see them and my video tutorial for them.
After a few calculations and scribbles I worked out a way to make a box that didn't use up too much card and here it is…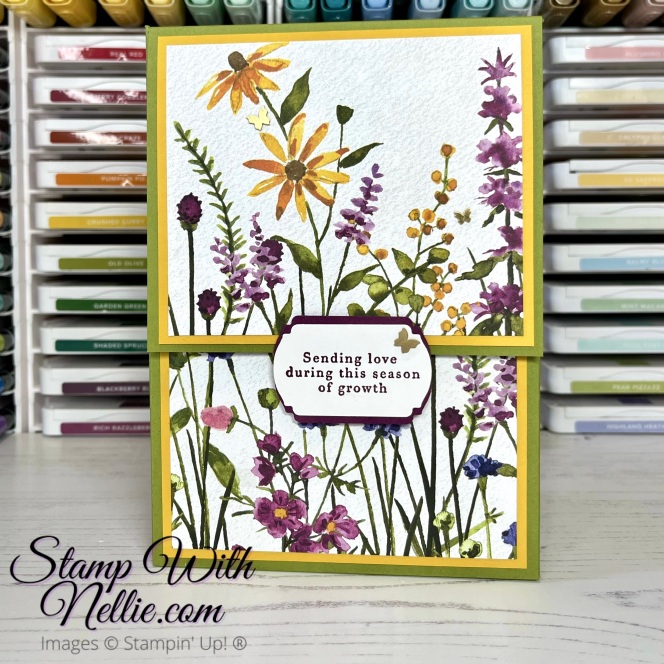 The gift box measures 6-3/4″ x 4-3/4″ x 1″ so you can fit quite a few cards and envelopes inside. I've got 4 of each in mine and there's still room for more. How many you can fit in will depend on how many layers and embellishments you have on your cards. You really don't want to squish your pretty cards, do you?
I'd love you to take a look at my video tutorial for this box. Please bear in mind that I hadn't made one in practice prior to recording my video and had only worked it out in theory. As a result, I forgot to turn one of the pieces of card and so I've scored it on the short side instead of the long side. I've highlighted this in the video so you don't make the same mistake…
Or you can CLICK HERE to watch it over on YouTube. If you're not already subscribed to my channel I'd love you to do so while you're there!
Here's the side view of the box, where you can see that the flap tucks in under the sentiment label…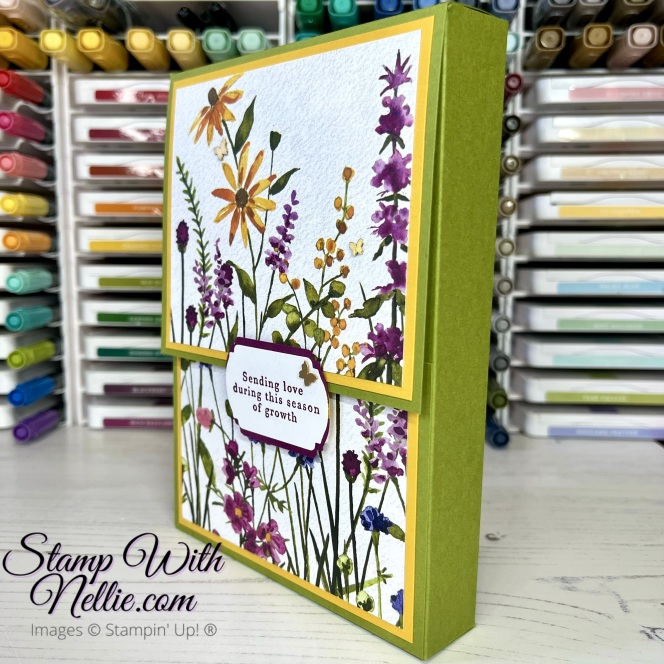 And here's how it looks when you open the box to reveal the contents inside…
To make the box you'll need the following supplies:
Old Olive card measuring

6-3/4″ x 4-34″ for the back panel
4-3/4″ x 6-1/2″ for the top flap

scored on the long side at 1/2″ and 1-1/2″

4-3/4″ x 5″

scored on the LONG side at 1/2″ and 1-1/2″ (this is where I went wrong in the video)

7-3/4″ x 2-1/2″ for the right side

scored on the short side at 1/2″ and 1-1/2″
scored on the long side at 1″

7-3/4″ x 2-1/2″ for the left side

scored on the short side at 1″ and 2″
scored on the long side at 1″

Crushed Curry card measuring

4-1/2″ x 3-1/2″ for the bottom section
4-1/2″ x 3-3/4″ for the top section

Dainty Flowers DSP measuring

4-1/4″ x 3-1/4″ for the bottom section
4-1/4″ x 3-1/2″ for the top section

Basic White card to stamp and punch the sentiment
Rich Razzleberry card to punch the sentiment
embellishments
I hope you like this project and will give it a try too.
Shop the products
I've listed the current products I used for today's project below. You can click on any of the links to see that product in my online shop.
The Dainty Flowers Designer Series Paper is only available as a free product with a qualifying spend up until 28 February 2023.
When you shop with me you'll receive a handmade card and gift as a token of my appreciation. If your order is under £150 please use the current Host Code so that I can add in a free product to your customer thank you pack for the month. Find out more on the Host Code page in the main menu.
Happy crafting,
Heather x
Product List