Hello!
It's Thursday so it's Project Share day. Every Thursday I share one amazing project created by each of my talented friends Jill, Verity and Gez. Please use the links to take a closer look at their projects and video tutorials.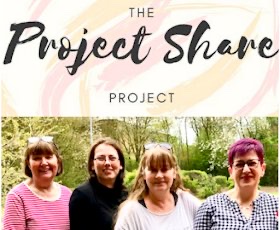 First up is Jill of www.paperdaisycrafting.co.uk who has been creating an awesome CD case calendar and this page for June is simply gorgeous…
Jill has given us a sneak peek at a new stamp set that I hadn't really noticed but now I feel like I need it! You can CLICK HERE to pop over to Jill's blog post to see this page, as well as January to May too, and watch her video tutorial to see the stamp set in more detail.
Next we have Verity of www.inkybutterfly.com with these absolutely stunning cards…
Verity took inspiration from a friend when designing these cards but definitely put her own spin on them. Please CLICK HERE to see the card that inspired Verity and then to watch her video tutorial for her own card.
And finally for this week, Gez of www.nigezza.co.uk has revamped one of her previous projects to create this beautiful money wallet…
This is such a great way to gift cash, at any time of year, just by changing the sentiment on the front! This paper is gorgeous and is understandably sold out now but you could use another paper to make your own version. Please CLICK HERE to find out more about Gez's project and watch her video tutorial for her previous version.
I love sharing these awesome projects from Verity, Jill and Gez each week and I hope you're as inspired by them as I am.
Shop the products
I've listed a few of the products used in these awesome projects below. You can click on any of the links to visit my online Stampin' Up! shop. When you shop with me I'll send you a handmade card and handmade gift as a token of my appreciation.
If your order is under £150 please use the current Host Code so that I can add in a free product to your customer thank you pack for the month. Find out more on the Host Code page in the main menu.
Happy crafting,
Heather x
Product List