Hello!
It's Thursday so it's Project Share day. Every Thursday I share one amazing project created by each of my talented friends Jill, Verity and Gez. Please use the links to take a closer look at their projects and video tutorials.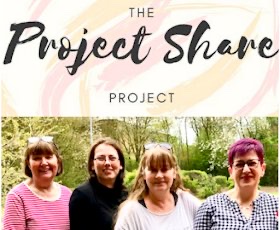 First up is Gez of www.nigezza.co.uk who's being very organised by taking part in a Christmas themed blog hop with this fabulous gift box…
Now that's what I called planning ahead. Of course you could make this gift with different papers and tag for just about any occasion. Find out all the details for this fun fold card by CLICKING HERE to visit Gez's blog post and to watch her video tutorial.
Jill of www.paperdaisycrafting.co.uk has created this simply fabulous card for a Facebook live session she and Gez had last weekend…
The theme of their live event was Masculine cards. I really love this card, almost as much as I love watching these lovely ladies craft together virtually on the first Saturday of the month. Find out more by CLICKING HERE to visit Jill's blog post and to watch her part of the recorded session.
And finally for this week, Verity of www.inkybutterfly.com made this adorable card with colours chosen by a friend for a little challenge…
I love these tones for a rainbow! Check it out by CLICKING HERE to pop over to her blog and then watch her tutorial to see just how quick and easy this card is to make.
I love sharing these awesome projects from Verity, Jill and Gez each week and I hope you're as inspired by them as I am.
Shop the products
I've listed a few of the products used in these awesome projects below. You can click on any of the links to visit my online Stampin' Up! shop. When you shop with me I'll send you a handmade card and handmade gift as a token of my appreciation.
Remember to use the current Host Code if your order is under £150 so that I can add in a free product to your thank you pack for the month – see the Host Code page for more details.
Happy crafting,
Heather x
Product List