Hello
I recently had the absolute pleasure to welcome another lovely lady into my Nellies Stampers team and here's the card and gift I sent to welcome her…
The little package at the bottom of the picture includes a Stampin' Up! bone folder…
I love the pop of Polished Pink with the black & white Beautifully Penned designer series paper!
Why might you want to join my team too?
The main reason is of course the fact that you can choose up to £130 worth of Stampin' Up! products and only pay £99. That was why I joined!
If you join before 30 September 2021 then you also get to add in a stamp & die/punch bundle worth up to £55.75; which made it too good a deal to resist for my latest team member…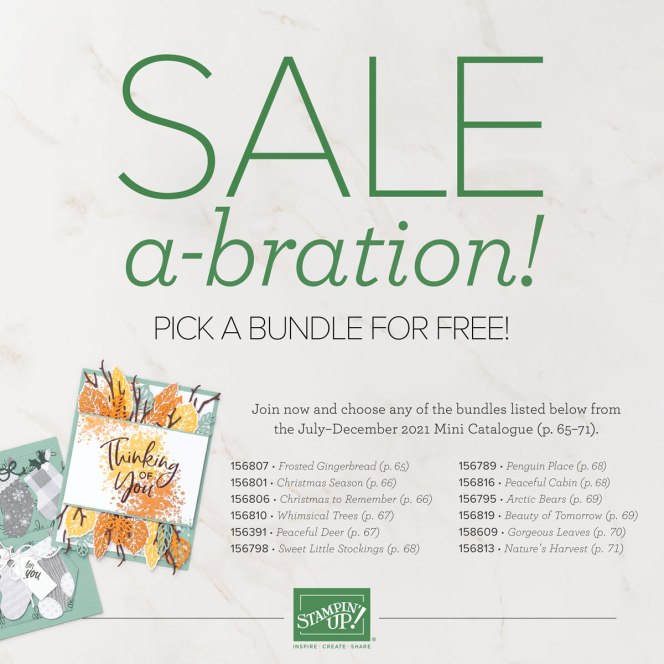 There plenty of other reasons for joining the Stampin' Up! family and staying around for years like me…
You get a 20% discount on your orders for at least your first 3 months (join now and your discount will run up to the end of 2021)
You earn 20% commission on customer orders during this period too
The discounts and rewards can increase depending on your sales volumes
You'll be part of my Nellies Stampers team, the larger Crafty Scots team and also the Pootlers team and get to take part in all the fun events, challenges and make new crafting friends
Find out about new Stampin' Up! products and promotions in advance
Get to purchase new products before they go live to the public
Have the opportunity to attend Stampin' Up! events – online or in person when permitted
Get whatever support you want from me to set up a Stampin' Up! business
Get absolutely no pressure from me if you don't want to set up a business!
You'll get a welcome card and little gift from me too
Which Bundles can you choose?
When you join by 30 September 2021 you can pick one of the bundles listed below to add in to your starter pack for FREE. You can take a closer look at them by clicking on the product link below:
Product List
Got questions?
Please just let me know! I'm here to help you get the answers you need. To get started just use the Contact Me form to get in touch by email, then if you'd prefer to chat on the phone just let me know the best number to contact you on.
Happy crafting,
Heather x