Hello everyone.
Yesterday was my niece's 12th birthday and as we couldn't go shopping together this year her main gift was money so that she can shop when she gets the opportunity. So rather than simply put the money in an envelope I made this pretty wallet for it…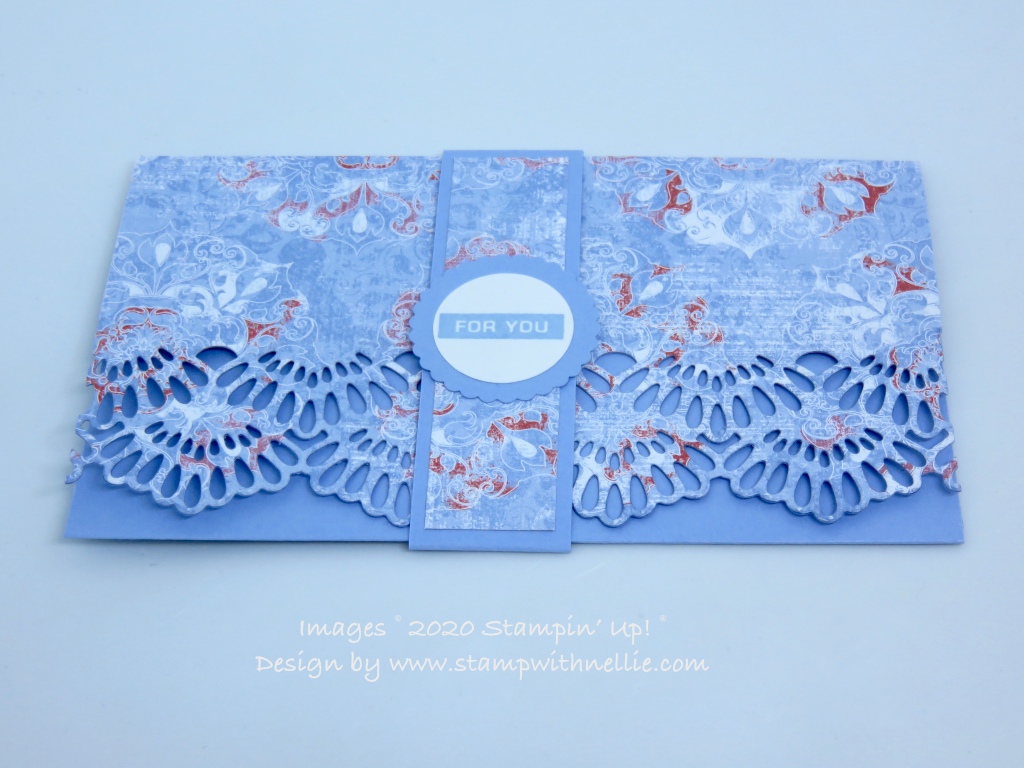 There's plenty of room inside to add a little message.
This was obviously made to accommodate the size of our UK bank notes. I started with a piece of Seaside Spray card measuring 6″ x 9″ and scored on the long side at 2″ and 5-1/2″
I cut a piece of the beautiful Woven Threads designer series paper (DSP) to measure 3-1/3″ x 6″ and added this to the front section of the wallet and cut it with one of the Delicate Lace dies. I will admit that it was hard going to cut both layers at the same time so it I was to do this again I'd probably cut my DSP a bit bigger and die cut the layers separately then glue them together and trim off any excess DSP.
I added a thin line of glue at each edge of the bottom section and folded it up to create the pocket for the bank notes.
I cut a piece of Seaside Spray card for the belly band to measure 1-1/8″ x 8-1/4″. Starting at the back I wrapped this around, creasing it as I went, to get a loose fit. I glued the ends together at the back. To decorate I added more DSP to the front and back that each measure 7/8″ x 3-3/8″
I stamped the For You from the Label Me Bold stamp set in Seaside Spray ink onto Whisper White card and cut it with my 1″ circle punch. I cut some Seaside Spray card with my 1-3/8″ scalloped circle punch and glued it to the back of the stamped circle. I then glued these to the middle of the belly band.
I hope you've enjoyed today's project as much as my niece will enjoy spending her cash!
I've listed the products I've used below and you can click on the links to start your online Stampin' Up! shopping with me. Remember to use this month's Host Code if your order is under £150. Check out the Host Code page in the menu above for more information.
Happy crafting,
Heather x
Product List