Hello everyone. Thank you for visiting.
Today I've updated a project from last year. I made a note block holder previously and it's been quite popular on Pinterest so I thought I'd made another one with some different Stampin' Up! products and a couple of changes…
Now I know the old saying about Red & Green but I really do like the vibrant combination of Granny Apple Green and Poppy Parade! Especially with this beautiful Peaceful Poppies designer series paper.
I made the base of my holder using Granny Apple Green card and the only change I made from my previous version was to use the Stitched Nested Label dies instead of the Stitched Rectangle.
You can see my earlier instructions by clicking on the image below…
To cover up the tabs inside and to add a bit of interest when the memo block goes down, I decorated the inside of the box with more designer series paper and some of the Peaceful Poppies Elements coloured with Poppy Parade ink…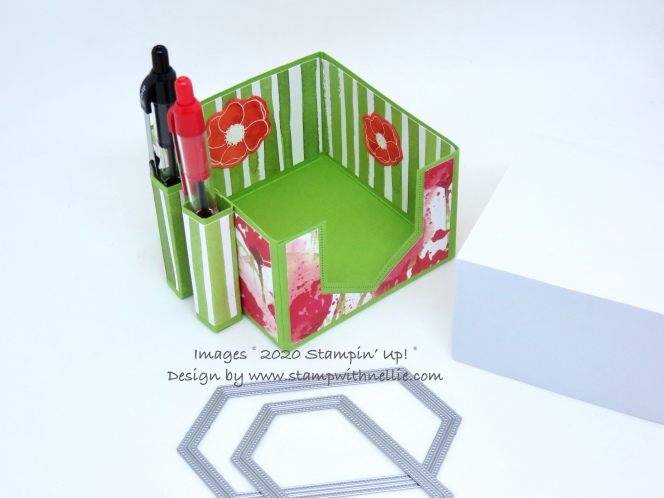 I also added a couple of pen holders on the side that perfectly fit some Zebra Z Grip mini pens. I made these with 2 pieces of Granny Apple Green card measuring 2-1/4″ x 4-1/2″, scored on the long side at 1/2″ and scored on the short side at 1/2″, 1″, 1-1/2″ and 2″. Snip up the score lines along the bottom edge of the long side, removing the one on the skinny edge. Glue the narrow side panel to the back of the first panel and then fold in the bottom flaps to form the base of the holder.
I added strips of designer series paper right round the pen holders with the join at the back and then glued them to the side of the base.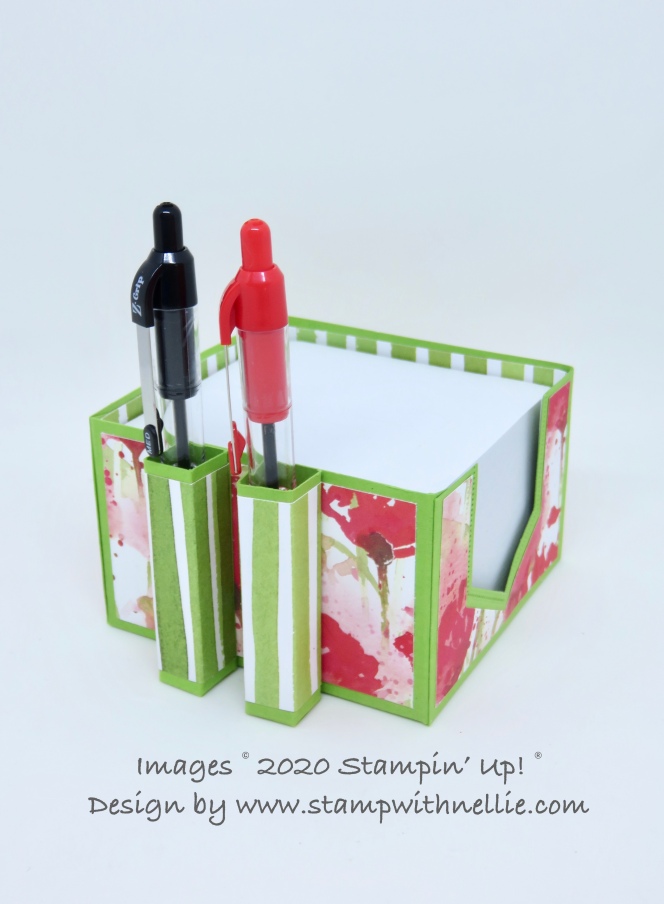 This is a lovely practical project that would brighten any desk! I hope you'll have a try.
I've listed the products I've used for today's project below. You can click on any of the links to visit my online Stampin' Up! store. Just ask if you have any questions, I'd love to help.
Happy crafting,
Heather x
Product List