Hello.
I wanted to treat the lovely ladies at our papercraft workshop on Sunday but didn't have a lot of time to make them a gift. I also wanted to give them a little bit of some new products to take home so used them when making these little treat boxes…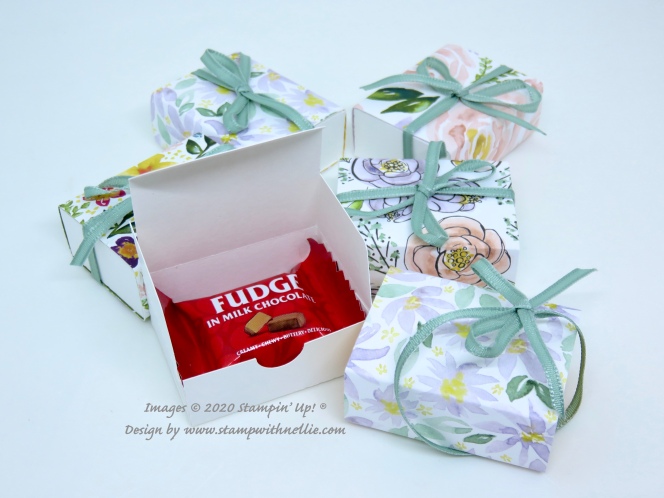 As time was an issue, I cheated and used my Scan N Cut machine to make the boxes. I plugged in the dimensions to this handy website and transferred the data to my machine for it to cut 2 from a sheet of A4. I found it could cut them quicker than I could assemble them! My dimensions were length = 2″, width = 1.5″ and height 0.75″ and I changed the thumb hole dimension to 0.5 and the Glue Flap size to 0.5 – I hope that makes sense if you're familiar with this template maker site; it's very handy! This gave me a perfect fit for my little chocolate fudge treats.
I simply wrapped a piece of the floral patterns from the Best Dressed designer series paper measuring 2″ x 5″ around each assembled and filled box and joined the ends on the base of the box. Try to leave it loose enough to slide off. I then added some of the new beautiful Mint Macaron ribbon around them and tied it in a bow.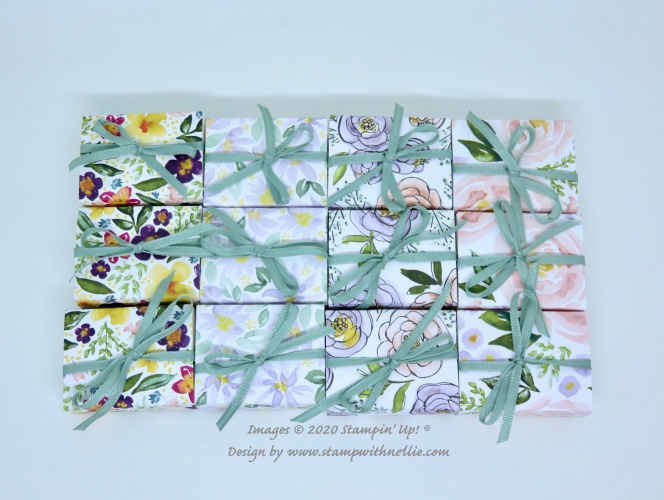 These are really simple but were most appreciated by our lovely ladies at the Heiton Papercraft Workshops. Anyone interested in joining in with our workshops on the first Sunday of the month, near Kelso in the Scottish Borders, would be made most welcome. Just use the Contact Me form to get in touch for more details and to book your space.
I hope you liked this project as much as our Heiton ladies did.
I've listed the Stampin' Up! products I used below. You can click on any of the links to visit my online shop. I would be honoured to be your chosen independent demonstrator.
Happy crafting,
Heather x
Product List