Hello.
If you read my last 2 blogs you'll know that I'm having tons of fun with the Hugs From Shelli Paper Pumpkin kit currently available to Stampin' Up! customers in the UK; while stocks last.
Today I want to share this card that I made with the stamps from the kit and an extra embellishment left over…
The mini ink spot you get included with the kit is in Early Espresso so I decide to use that colour for my card base. This measures 21 x 14.5 cm, scored and folded on the long side at 10.5 cm to create a landscape tent fold.
I cut a piece of Crumb Cake card to measure 10 x 14 cm and stamped this with the feather and splodges stamps from the kit in Crumb Cake ink. I also inked the edges of this piece of card with Crumb Cake ink and a sponge dauber.
I added a piece of Burlap ribbon to the centre of the card layer before adding it to the base. I then added loops of the Crumb Cake twine from the Nature's Twine set .
I stamped the Happy Father's Day using the Early Espresso ink spot and the Well Said stamp set, onto Crumb Cake ink. I distressed this the same way as the layer added to the card already. I then cut it with my Everyday Label punch. I used the same punch on a scrap of Early Espresso card then cut it in half to add to the ends of the stamped label.
The kit comes with 4 of those cute metal swallow embellishments but you only need 3 for the cards included in the kit so I added the spare one to the label as my finishing touch.
I also added a layer of Crumb Cake ink to the inside, also stamped with the Early Espresso ink spot and the Well Said stamp and Crumb Cake ink with the stamps from the kit…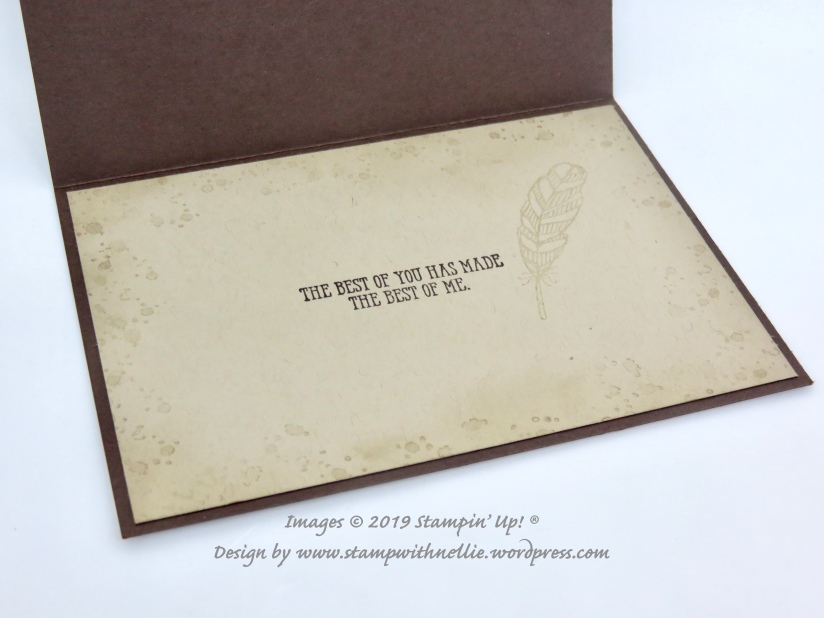 I hope you've enjoyed today's card. I'll be back with a more feminine card tomorrow that also uses stamps from this kit. It's the kit that keeps on giving!!
I've listed the products used below. You can click on any of the links to visit my friend Valerie's online Stampin' Up! store if you'd like to purchase any. I genuinely can't recommend this kit enough.
Happy crafting,
Heather x