Hello and thanks for joining me. Today I'd like to share a scrapbook page with you. I don't often do this, but I'm trying to make more of an effort to record some of my memories in my scrapbook album so, here's my latest page layout…
I started with a piece of 12 x 12 inch Best Route designers series paper (DSP) and added some 1 inch wide strips of other papers from the pack along the top and bottom of the page, for some contrast.
Almost everything on this page is from the DSP pack or the Best Route Memories & More Card Pack. The only exception is the hooray! which was die cut from Mango Melody card using the Well Written Framelits Dies.
I will be adding a photograph taken at the 2018 Canadian Grand Prix where the 6 x 4 inch blank photo paper currently is; this is backed with some Mango Melody card measuring 6.5 x 4.5 inches. I will add information about the event on the WE WERE HERE memories and more card and the results of the race on the the THIS HAPPENED card.
I added some of the stickers that are also included in the Memories & More pack, like the little car shown in the photo above and the aeroplane in the photo below…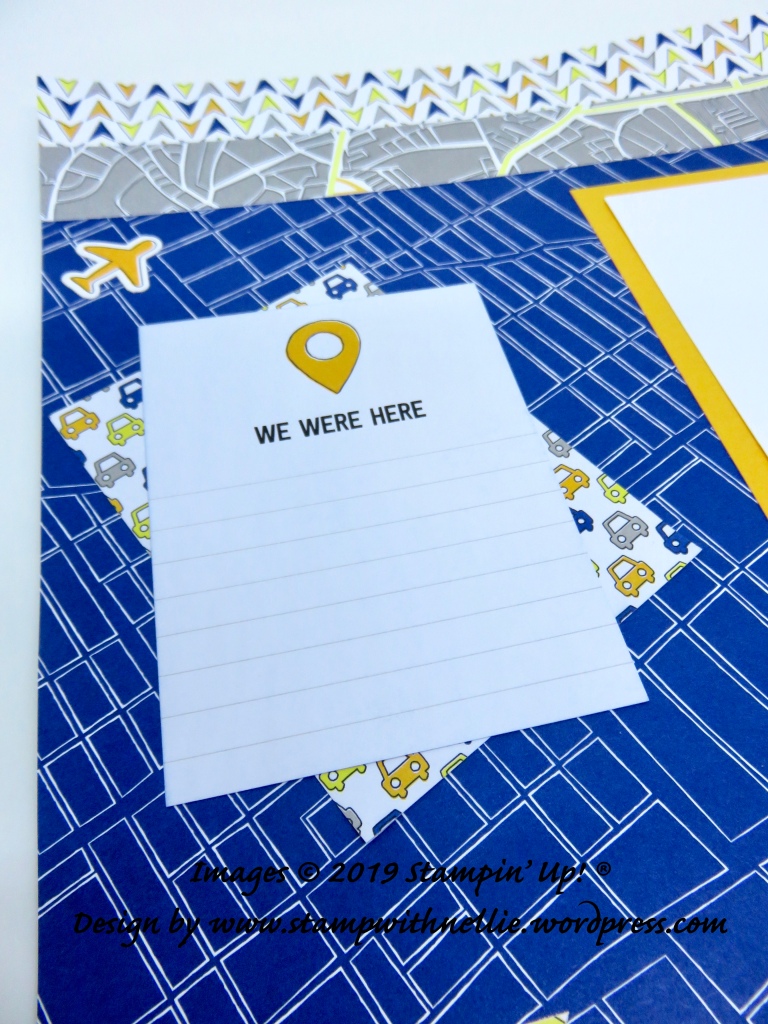 The piece with the little cars on it in the above photo is another card from the Memories & More pack.
Attending a Grand Prix was a lifelong ambition and definitely worth while recording in my album. What recent event would you record? I'd love to hear your ideas, they might spark some ideas for me too.
I've listed all of the products used in today's project below. You can click on any of them to visit my online Stampin' Up! shop at any time.
Remember, Memories & More cards are not just for memory keeping, here are some cards I've made with cards from this same pack and you get 50 double sided cards in 2 different sizes plus 4 sticker sheets for just £9.25!
Happy crafting,
Heather x
Product List