Hello and thanks for visiting my blog.
I've recently taken to joining in with a few crafty challenges as a way to take me out of my normal crafting comfort zone. Over on the Stampin' For All Facebook Group this week's challenge from Design Team member Helzie is to create a fancy fold card.
This is way out of my comfort zone! But here's my effort when it's folded up…
And here it is when you open it…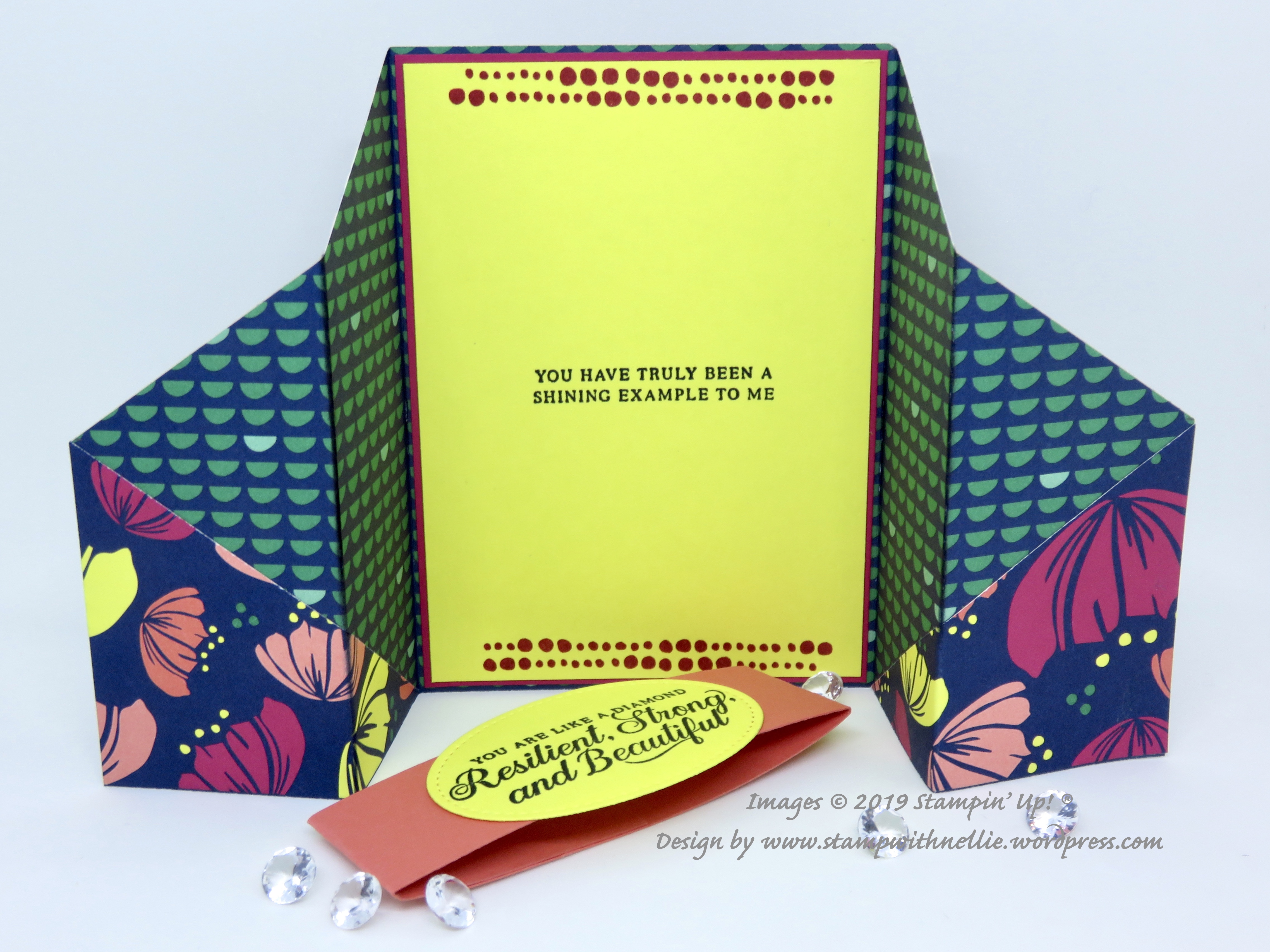 I genuinely don't even know what this type of fold is called, so please comment below if you can educate me, lol! I'd seen a few on Pinterest and just decided to give it a go. I started with a piece of Happiness Blooms designer series paper as I wanted my card to be bright & bold, just like the person that will receive it.
The DSP measures 5 & 1/2 inches by 12 inches and I scored on the long side at 2, 4, 8 and 10 inches. When this is folded up the card measures 5 & 1/2 inches by 4 inches and fits into a standard C6 envelope.
The following photograph hopefully explains the cutting to get the shape of the card but essentially you need to mark each short side at the halfway point and cut between that and the top of the second score line in from the side. The part you cut off gets flipped over and glued to the bottom corner as shown on the right…
Once I'd burnished and folded your lines I realised I must have been a bit heavy handed and so you could see some white along the crease lines. I sorted that with a sponge dauber and some Night of Navy ink along the edges.
To the inside I added the following layers:
Lovely Lipstick measuring 5 & 3/8 inches by 3 and 7/8 inches
Pineapple Punch measuring 5 & 1/4 inches by 3 and 3/4 inches
I stamped the dots from the Bloom to Bloom stamp set in Lovely Lipstick ink onto the Pineapple Punch layer at the top and bottom. The sentiment inside comes from the inspirational Strong & Beautiful stamp set and I used Night of Navy ink.
To close the card I added a belly band from Calypso Coral card. The sentiment is also from Strong & Beautiful and again I used Night of Navy ink on Pineapple Punch card. I used an oval from Stitched Shapes to cut this out and glued it to the belly band.
I love that you get to see the contrasting sides of the designer series paper once the card is open, with just a little peak at it when it's closed.
I actually enjoyed making this card and stepping out of my comfort zone. Why don't you challenge yourself this week too?
I've listed the products I used today below. You can click on any of them to visit my online Stampin' Up! shop. Please check out some of the other beautiful sentiments in the Strong & Beautiful stamp set – it's perfect for the strong people in your life, not just the women!
If you have any comments or questions on today's card please let me know, I'd love to hear from you.
Happy crafting,
Heather x
Product List