Hello and thanks for ready my blog!  I do appreciate it.
Last year I made and sold a whole lot of candy cane tags and that project has been pinned on Pinterest 1.6k times now.  I reckon I'd be hard pushed to come up with something to beat that so I decided to take a look at what else was on Pinterest of a similar nature.  I came across a YouTube video by Lea Denton from 2015 but unfortunately her website is no longer active to give you a link to that.
I made a couple of changes to Lea's design because she used a punch that's now retired and used 12 x 12 inch card that I didn't have.  A4 works just as well.  
I cut strips of Crumb Cake and Sahara Sand card that were the full length of A4 but just 2 inches wide.  You can get 4 from each sheet of A4.  I scored them at 2 & 1/4, 5 & 1/4 and 5 & 1/2 inches.  The reason I made this change from Lea's version was that hers were flat at the bottom and the card creased a bit and I'd rather avoid that if I could.  I used the Scalloped Tag Topper punch on both ends and then added some Tear & Tape as shown below: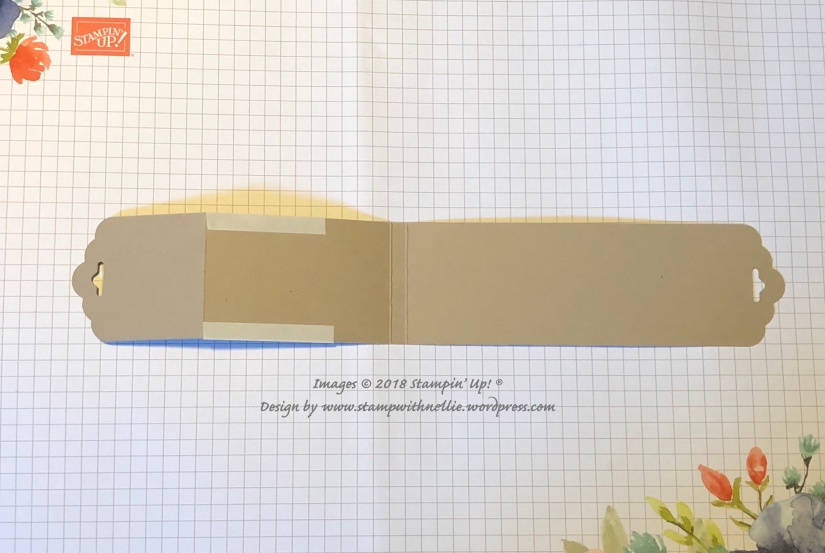 I used my 1/2 inch circle punch on Whisper White card and Merry Merlot glimmer paper.  I used the Cookie Cutter punch on Basic Black card, using the part that cuts out the bear's ears or the Gingerbread Man's buttons, these make pretty good pupils for the reindeers eyes.  I added the pupils slightly off centre, I didn't want him to look like he's been caught in your headlights, lol.  I used a silver sharpie pen to add a little glint to the eyes too.  I've learned there's a fine line between the caught in the headlights look and him having a squint, but I preferred the squint!  One I'd glued the eyes and glimmer nose it was time to put the candy cane 'antlers' in.  The finishing touch was some silver twine so it can hang on your tree or be attached to a gift.
Once I'd assembled a few I realised that the adhesive was under a lot of strain so I added staples under the flap so that you can't really see them but this will prevent the sides splitting and the candy canes falling out.
Unfortunately some of the candy canes I bought were broken and you can't give anyone broken sweeties so I'm working on making sure they don't go to waste – but they will go towards my expanding waist instead!
I've listed the products I've used in this project below. As always, you can click on the links to visit my online Stampin' Up! shop.  I'd be honoured to be your independent Stampin' Up! demonstrator.
Happy crafting,
Heather x
Product List