Hello and thank you for joining me today.
I love all of the Stampin' Up! products that I've gathered over the years and I often like to use quite a few of them on my projects.  One of the great selling points for Stampin' Up! is the coordination of the products, so why wouldn't you want to use them all together?  I think some of us that have been crafting for a while forget that people don't have lots of products and can be put off starting to make cards because they think they need lots of things.
When I was at OnStage last weekend I was reminded that as a demonstrator I should remember to share some simple projects to inspire beginners.  Hopefully you'll agree that this card fits that bill…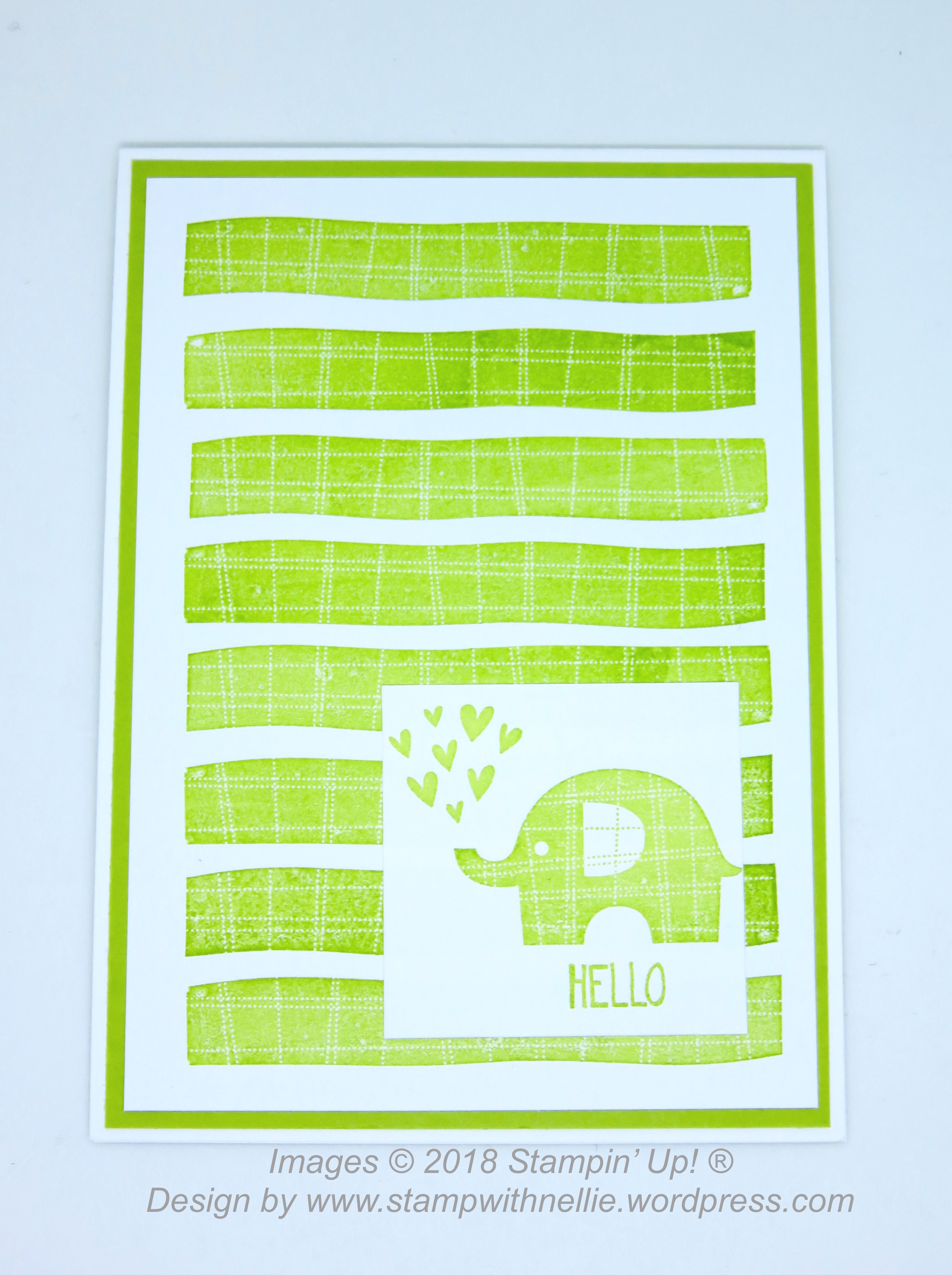 I have used Whisper White card for the base and stamped layers, with some Lemon Lime Twist card in between.  All of my stamping is in Lemon Lime Twist ink and all of the stamps used come from the Little Elephant stamp set.  So that's just 1 stamp set, 1 ink, 2 types of card and adhesive. I think that qualifies for #simplestamping don't you?
The card base measures 29 x 10.5 cm, scored and folded at 14.5cm
The lemon lime twist layer measures 10 x 14 cm
The Whisper White layer measures 9.5 x 13.5 cm. This is stamped with Lemon Lime Twist ink and I rotated the stamp 180 degrees each time I used it 
The sentiment layer is Whisper White card measuring 5 x 5 cm
I used Washi tape to mask part of the "Hello Little One" stamp, inked it up, removed the tape and then stamped it under the elephant. This is an easy technique to get more variety from your stamps.
I hope you've enjoyed today's #simplestamping project.  I've listed the products used below.  You can buy the Lemon Lime Twist card in a full pack or you can buy a mixed pack of the 2017-2019 In Colors so I've shown both.  Mixed packs are a great way to build up your supplies more quickly.
If you decide to shop with me please remember to use this month's Host Code so that I can share some extra product with you.  Check out the Host Code page for more info.
Happy crafting,
Heather x 
Product List