Hello!
Yesterday was my 50th birthday and I gathered with my nearest and dearest for dinner in a fabulous East Lothian hotel to celebrate.  As a little thank you for joining me in my celebrations I made treat bags for everyone…
I chose to use Broadway Bound speciality designer series paper as tomorrow I head off to New York to continue my birthday celebrations – I'm Broadway Bound, baby!!  And it's just such gorgeously luxurious paper to use for a special occasion.
I trimmed the 12 x 12 inch sheets down to 8 x 12 inches and then used my Gift Bag Punch board to do all the punching and scoring.  I used the markers for a Large width bag. This tool really does make creating multiple bags so much quicker than using a scoring tool and scissors.
I cut pieces of Whisper White and Basic Black card to measure 2 x 6 inches and scored them at 1 & 1/4 inches, so that I could fold it over the top of the bag.  At the other end I used my Triple Banner punch to cut the inverted V shape.
I started embossing the Whisper White tags first and used the 'Thank You for making my birthday happy' stamp from the All Things Thanks set with Versamark ink.  I used Gold Stampin' Emboss powder and heat set it.  I found my spacing wasn't too great and then remembered that the Stamparatus would make the job MUCH easier thanks to the stepped hinges.  You just need to line up your stamp, ink it up, stamp it and then remove the plate, move it down a notch when you put the plate back in and then ink and stamp again.  So easy!  Why didn't I think of that earlier?
On the Basic Black tags, because I used the Stamparatus I also had room to add the 'You're the Best' stamp from the same set.
I added some Metallics Sequins and Metallic Pearls to the tags along with some Whisper White Classic Weave ribbon or some Basic Black Shimmer ribbon and some Gold Mini Sequin trim.  The bag is kept closed with a Gold Library clip.
Now, I have to admit that on quite a few of the bags I used some retired ribbon that I don't even remember buying!
And inside the treat bag the treat is a decadently delicious bag of handmade Scottish Table from All Mixed Up, which has a Great Taste award that is very well deserved…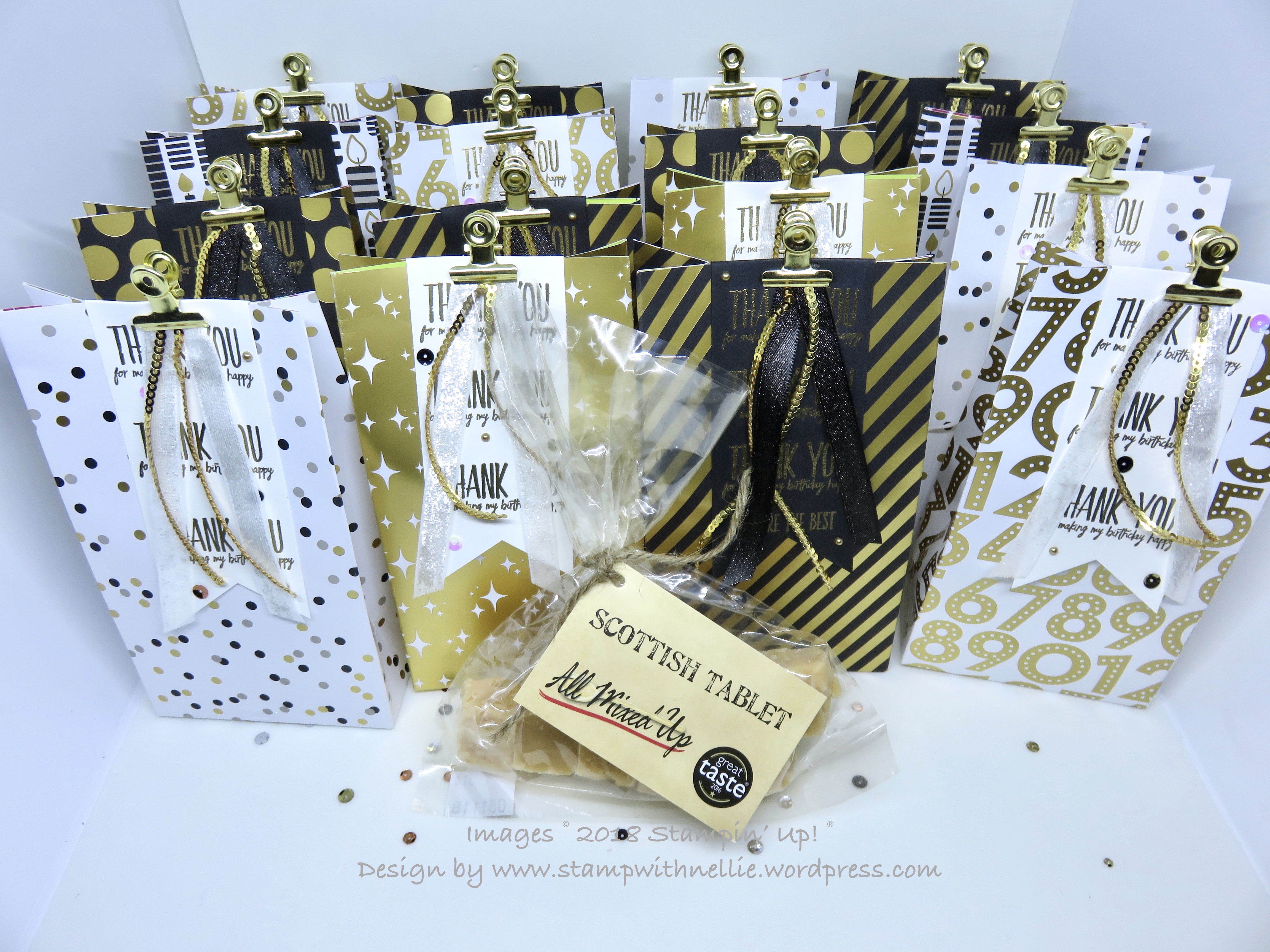 Now, I just need to find a project that will use up all of the 12 x 4 inches pieces of leftover designer series paper – any ideas?
I've listed all of the supplies I used for this project below.  You can visit my online Stampin' Up! shop by click on any of the product links, at any time.
If you have any comments or questions on this project or any Stampin' Up! products I'd love to hear from you.
Happy crafting,
Heather x
Product List