Hello! Welcome to another Festive Friday post. This week I've been inspired by a swap I received from Cathy Bassompierre of www.encresetpassions.com way back at OnStage in Vienna last year. Her swap had a tea bag inside but I've made mine into this square Winter Meadow fun fold card…
When you remove the belly band it opens like this…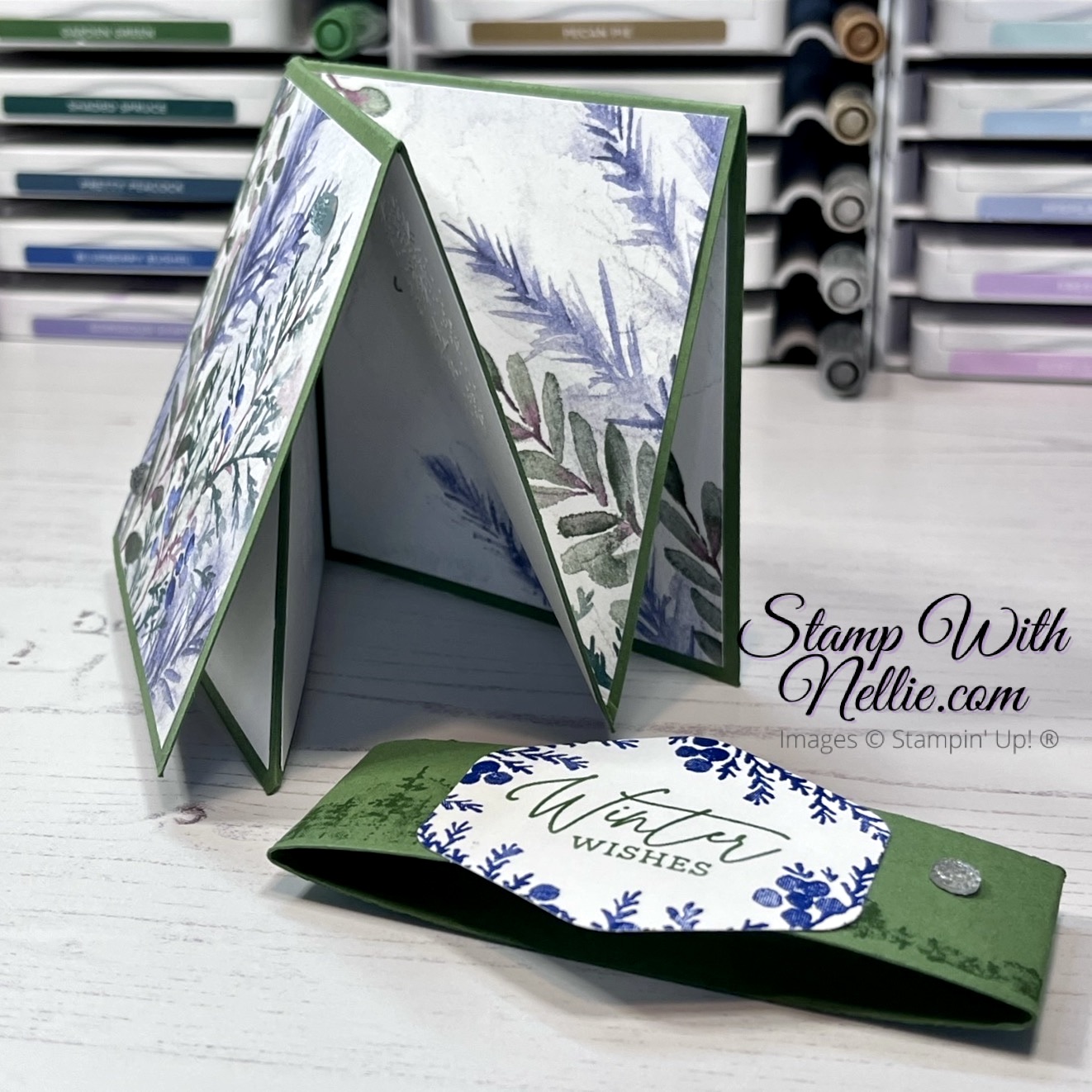 To reveal this inside…
And here's the back and the 4″ x 4″ envelope it fits into…
Each Friday during September and now into October 2023 (for who knows how long!) I will be sharing a Festive project to inspire you all…
Today I've combined my Festive Friday project with the latest Creative Colour Challenge…
Please CLICK HERE to check out the colour challenge and play along.
I used these colours to make another version of my Winter Meadow fun fold card and recorded a video of me making it…
I'd love you to click on the image above or if you prefer you can click here to pop over to YouTube and check out how to make this Winter Meadow fun fold card. If you enjoy watching my video, I'd love you to give it a thumbs up and leave me a comment too. If you haven't already subscribed to my channel, make sure you do so when you're there; so you don't miss out on future videos.
Here's the one I made in the video, alongside the one I made earlier…
And here are the photos of the Creative Colour Challenge version in more detail…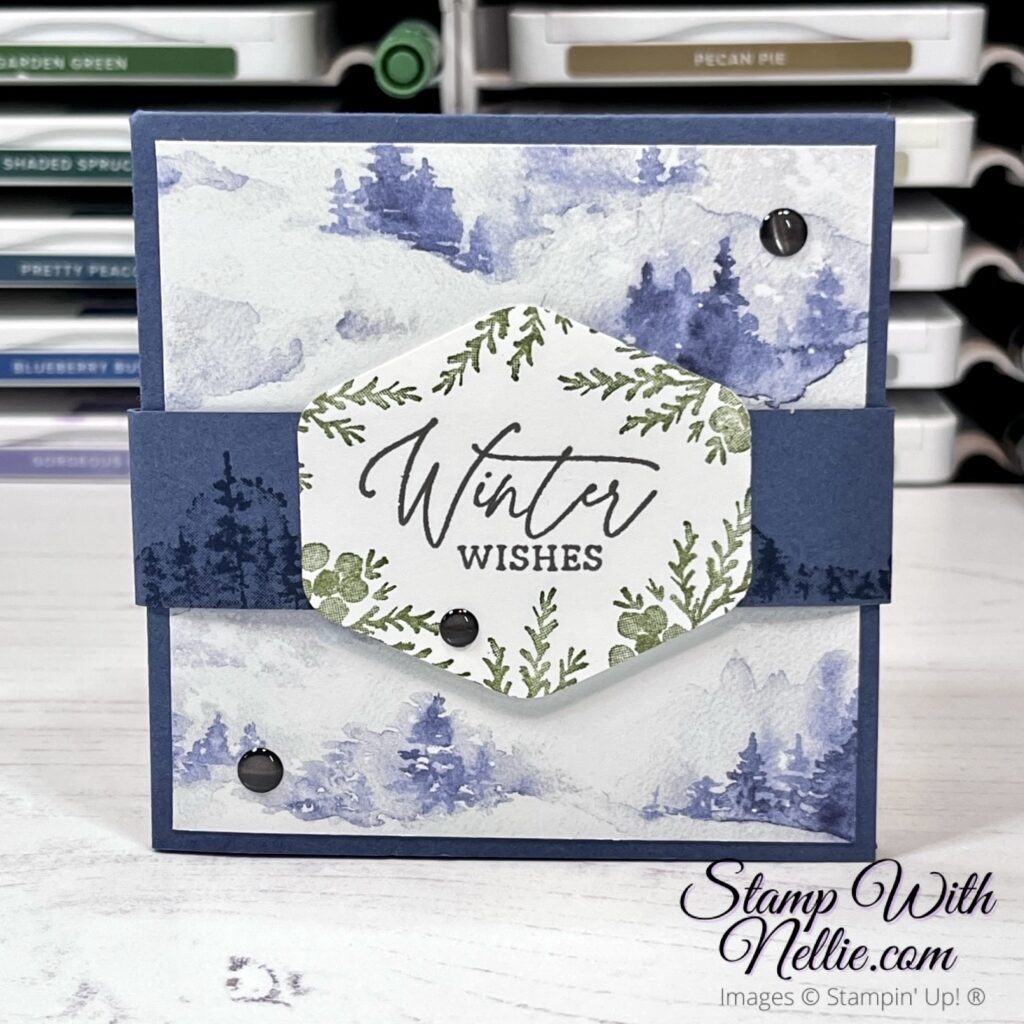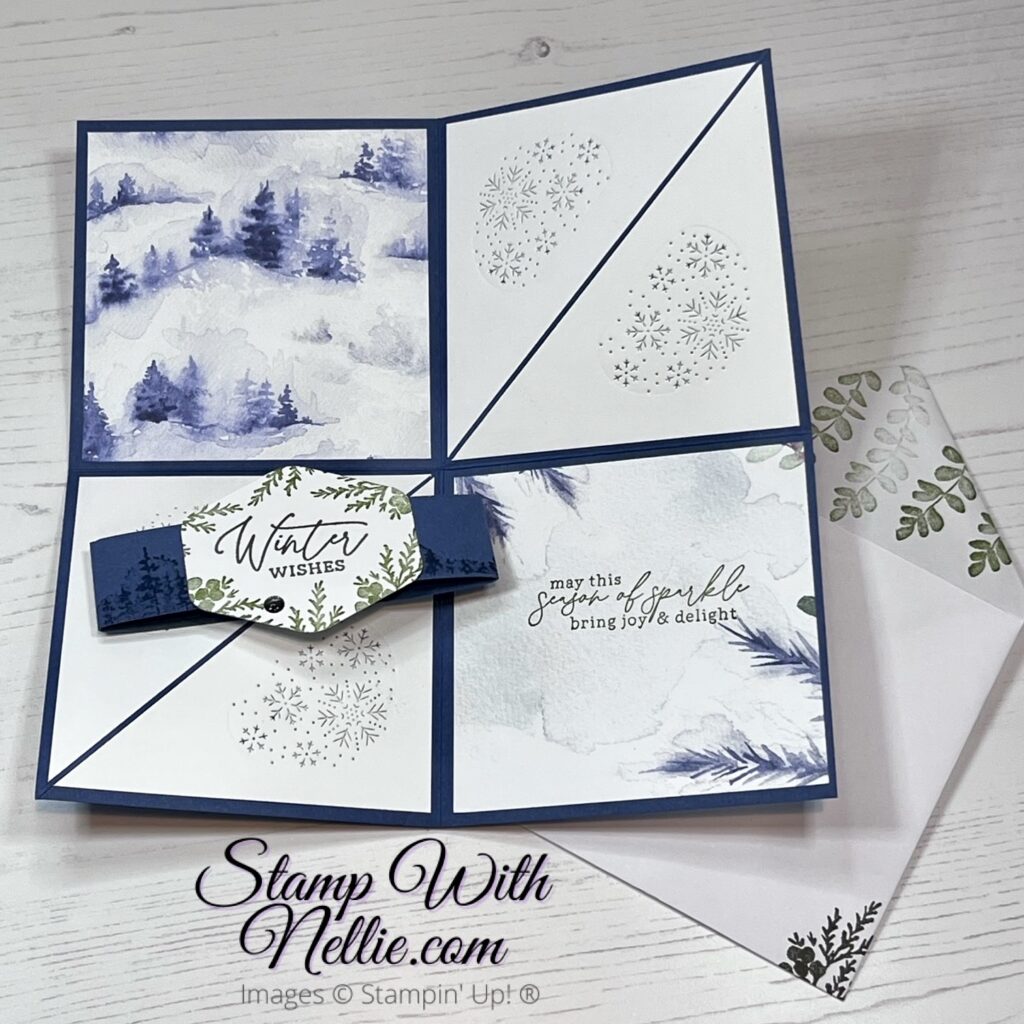 I hope you've enjoyed today's Festive Friday project combined with the Creative Colour Challenges and will give it a try.
MEASUREMENTS
To make the Winter Meadow fun fold card I created in the video you'll need the following supplies:
Misty Moonlight card for the base measuring 7-1/2″ x 7-1/2″

score one side at 3-3/4″
turn and score the second side at 3-3/4″
score on the diagonal as shown in the video

4 pieces of Winter Meadow DSP – measuring 3-1/2″ x 3-1/2″ (1 needs to be cut on the diagonal)
3 pieces of Basic White card – measuring 3-1/2″ x 3-1/2″ (2 of them need to be cut on the diagonal)
Misty Moonlight card measuring 1″ x 8-1/4″ (the width of an A4 sheet) for the belly band
Basic White card to stamp and punch the sentiment label (approx 3″ x 3″)
Embellishments
SHOP THE PRODUCTS
I've listed the products I used for both versions of today's card below. You can click on any of the links in the Product List to visit that item in my online Stampin' Up! store.
When you shop with me you'll receive a handmade card, like these ones and gift as a token of my appreciation. If your order is under £150 please use the current Host Cod. This means that I can add in a free product to your customer thank you pack for the month. Find out more on the Host Code page in the main menu.
Happy crafting,
Heather x
Product List