I had so much fun making today's Sunshine & Rainbows gift box and card, using the baby wipe technique. To be honest, I was a bit worried about it being messy but the results were so worth it…
If you've never used the baby wipe technique before, you really need to watch my video and give it a go! I hope you have as much fun with it as I did.
The ink refills I used for this technique were Melon Mambo, Flirty Flamingo, Crushed Curry and Blueberry Bushel. But so many colours would work just as well for stamping these rainbows onto the Bright & Beautiful DSP.
One sheet of the 6″ x 6″ DSP is enough to make both the card and decorate the little gift box. The inspiration for the whole project came from the little rainbow lip gloss inside my box…
I'd love you to take a closer look at this sunshine & rainbows gift box and card and see how to make them, by watching my video tutorial…
You can watch my tutorial by clicking on the image above or if you prefer, you can click here to pop over to YouTube and check out how my tutorial for these gift boxes and cards. If you enjoy watching my video, I'd love you to give it a thumbs up and leave me a comment too. If you haven't already subscribed to my channel, make sure you do so when you're there; so you don't miss out on future videos.
Here's the sunshine & rainbows gift box and card I made in the video, alongside the ones I made earlier…
Thankfully I found the "I hope" piece of the sentiment after I finished recording the video!! I also did manage to get the other lip balm out of the packaging and attached the ribbon to it…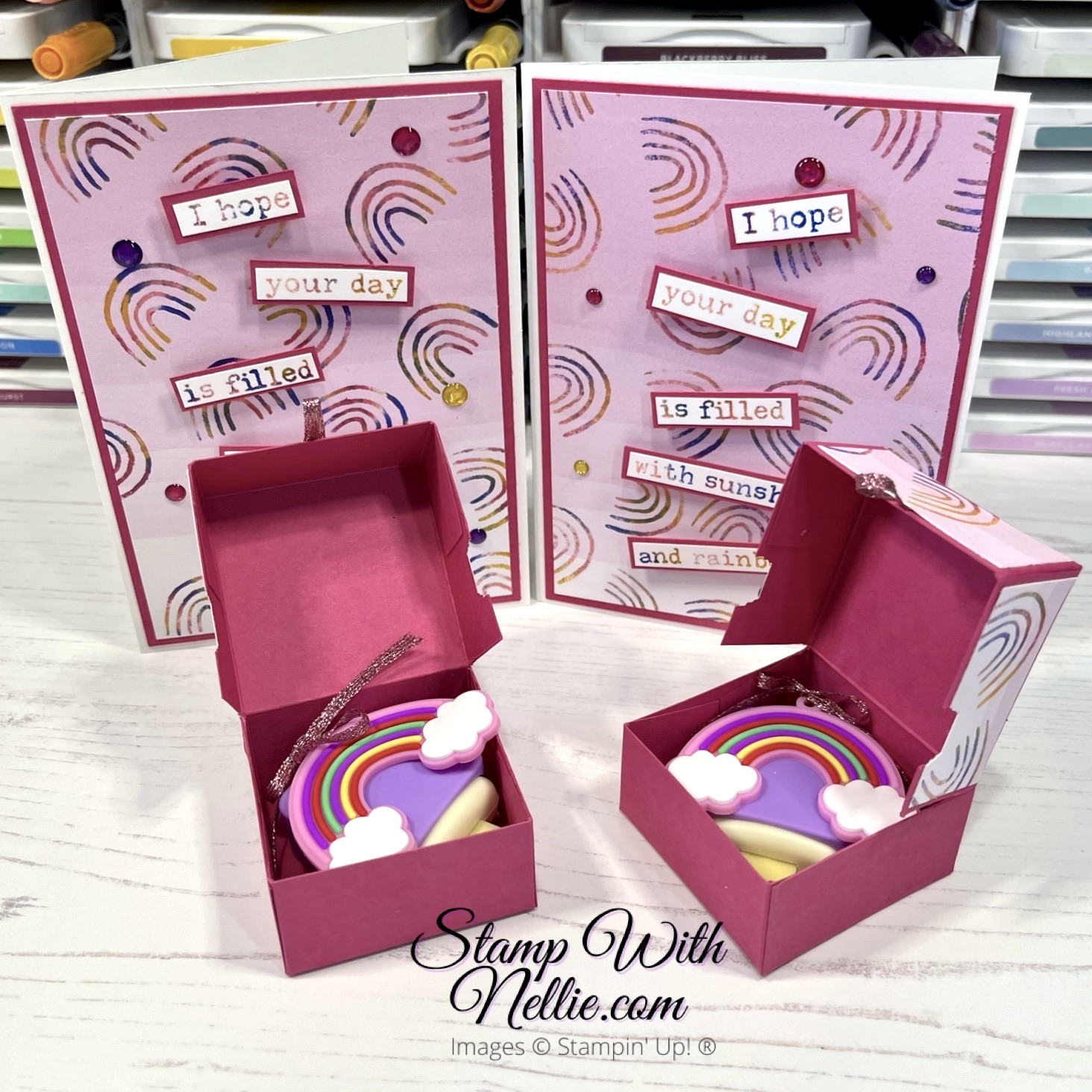 I hope these cards and gifts will add a little sunshine and rainbows to the recipients' day!
measurements
To make the gift box I created in the video you'll need the following supplies:
Melon Mambo card measuring 4″ x 7″

score on the short side at 1″ and 3″
score on the long side at 1″, 3″ 4″ and 6″"

Stamped Bright & Beautiful DSP as follows:

1 piece = 1-7/8″ x 1-7/8″
4 pieces = 1/-7/8″ x 7/8″

Basic White card scrap to stamp the sentiment then trim to fit
Melon Mambo card scrap to back the sentiment
ribbon
embellishments
To make the card I created in the video you'll need the following:
Basic White thick card base – mine is 21 x 14.5 cm, scored and folded on the long side at 10.5cm
Melon Mambo card layer – mine measures 10 x 14 cm
The remaining piece of stamped Bright & Beautiful DSP (4-1/8″ x 6″)

trim this to your usual card layer size – mine is 9.5 x 13.5 cm

Basic White card scraps to stamp the sentiment and trim the pieces to fit
Scraps fo Melon Mambo card to back the sentiment pieces
embellishments
shop the products
I've listed the products I used for today's projects below. You can click on any of the links in the Product List to visit that item in my online Stampin' Up! store.
When you shop with me you'll receive a handmade card, like these ones and gift as a token of my appreciation. If your order is under £150 please use the current Host Code. This means that I can add in a free product to your customer thank you pack for the month. Find out more on the Host Code page in the main menu.
Happy crafting,
Heather x
Product List