Hello and Happy New Year to you all! I hope 2023 if full of fun, love & laughter – and crafting obviously!!
Today I'm taking part in a video hop over on YouTube along with a fabulous group of other UK based Stampin' Up! independent demonstrators.
Our theme for this month is New Beginnings, how appropriate! I can't wait to see what everyone has created with this theme.
You can take a look at my project on YouTube by CLICKING HERE
Here's the full list of all of the videos in this month's hop. Please click on each link to see what these talented people have created to inspire us all…
Karen Egan – Craftykarendesigns – https://youtu.be/wkHBWAvs8kE
jazzledazzlecraft with Janice – https://youtu.be/DuH_jBy3KNM
Helzie – SlimmandStylish – https://youtu.be/STHdpH9DFyA
Lavine Noonan – Just a mum Stampin – https://youtu.be/Ux6n70TQv4w
Verity Pursglove – Stampin' with inkybutterfly – https://youtu.be/OjLekF6_zSs
Linda Ellis – https://youtu.be/X8BVKd2ZjCA
Gez Carpenter – Nigezza Creates – https://youtu.be/FFZgEnNegDk
Heather Forgan – Stamp With Nellie – https://youtu.be/jSCIFPOYBhE (YOU ARE HERE)
Artful Stampin with Ruth – https://youtu.be/sghFfUtpLR4
Esther Howard – Stampin Star Creations https://youtu.be/GuGNvbHz438
Wendy – Woos Creations x https://youtu.be/GhYUmcPnxo4
Barry & Jay Soriano Mitosu Crafts – https://youtu.be/_qPtOkW0DK0
Karen Jane Tilley – https://youtu.be/jpoVzG6wiyo
Jill Chapman Paper Daisy Crafting https://youtu.be/lP8pr2GUc0k
Jayne Frank – https://youtu.be/4fwHskUtMEM
Here's the card I made while recording my video…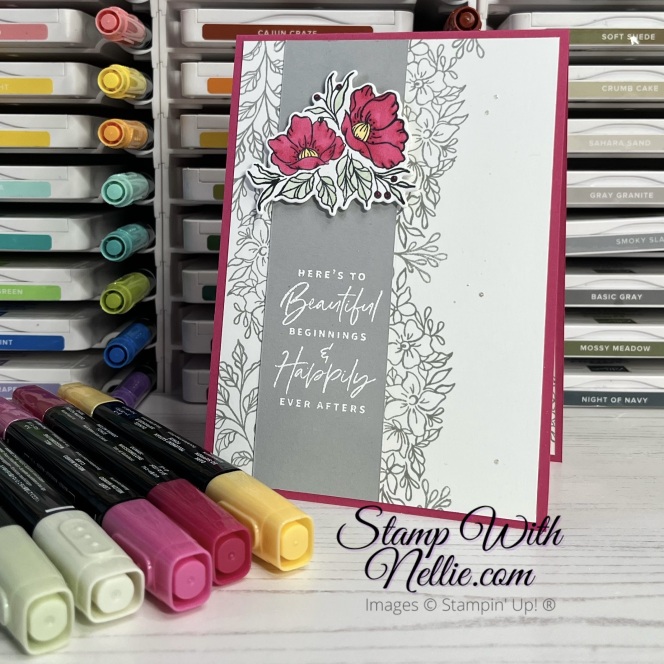 I used gold Shimmer ribbon, got the Sparkle from white glimmer paper and there's plenty of Shine with the heat embossing and that gorgeous foiled Like An Animal designer series paper. Oh and some Festive Pearls in gold and silver too…
It's a pity it doesn't show in my photos but there's a lovely shimmer all over the card thanks to the fine spray of Wink Of Stella, along with those super sparkly blobs.
I hope you've enjoyed my video and have been inspired by everyone that's taken part in this video hop. I hope you'll take the time to give their videos a thumbs up or a comment if you can.
The supplies you'll need for this card are as follows:
card base Melon Manbo card = 29 x 10.5 cm, scored & folded at 14.5 cm
two pieces of Basic White card each measuring 10 x 14 cm
one piece of Smoky Slate card measuring 4 x 10 cm
Basic White card for stamping and die cutting the flowers
Shop the products
I've listed all of the products I used for today's project below. You can click on any of the links to see that product in my online shop. The Something Fancy stamp set will not be available in my shop until 5th January 2023 so please pop back then.
When you shop with me you'll receive a handmade card and gift as a token of my appreciation. If your order is under £150 please use the current Host Code so that I can add in a free product to your customer thank you pack for the month. Find out more on the Host Code page in the main menu.
Happy crafting,
Heather x
Product List