Hello! I hope you are well.
Today's project is a little holder for some Stampin' Dimensionals. If you've read any of my blog posts before or even watched my YouTube tutorials, you may have noticed that I'm fond of saying that I popped something on my project up with dimensionals; so that's why the front of the holder looks like this…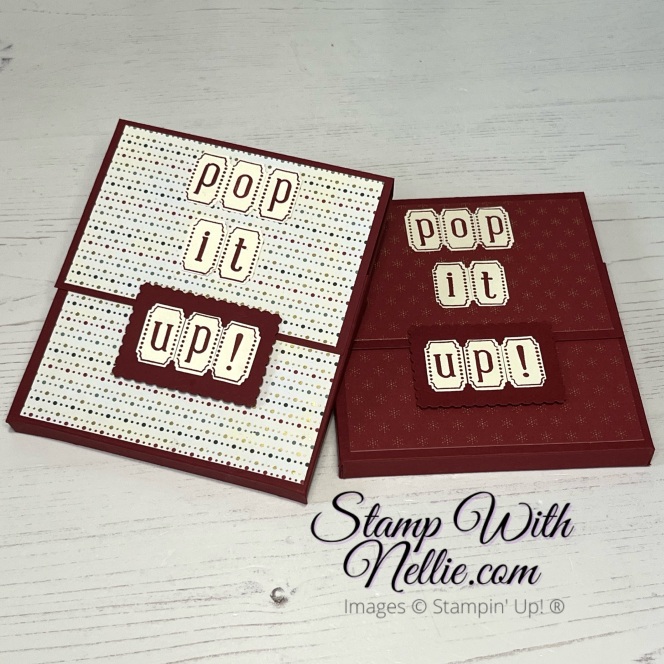 I recorded the video while suffering from fatigue and jet lag and after I'd struggled to actually get my measurements right in the first place. As I'd chopped and changed my mind when designing this project I ended up doing 2 steps in the video that should really have been done in 1 step! So you might like to read the directions and follow these along with watching the video to make a better of job than I did! Lol.
Directions
Trim card to measure 8″ x 9-1/8″
Score long side at 3/8″, 3/4″, 4-3/4″ and 5-1/8″
turn card counter/anti clockwise!! so double skinny panels are at the bottom
Score short side at 3/8″, 4-7/8″ and 5-1/4″
On the long side, with the double skinny panels at the right, line the edge up at 4″ mark and cut down to 4-1/2″
turn card clockwise to cut on the short side
line short side up at 3-1/2″ mark and cut from the bottom up to the 4″ point
cut DSP to measure 3-3/4″ x 2-1/2″ and 3-3/4″ x 2-7/8″ and glue as shown in the video
when assembling the holder it's much easier to glue the side tab first and then the base, rather than how I did it in the video!
I also forgot to mention in the video that the piece I cut with the Rectangular Postage Stamp Punch was from the section I chopped off earlier – waste not, want not.
It all came right in the end though! Eventually!! So here's the video link, just click the image below…
And this video shows that you can also fit in some of our smaller packs of embellishments, which would make it a perfect little gift for a crafty friend…
The front flap fits under the rectangle that is obviously popped up with dimensionals…
I hope my jet lagged brain hasn't confused you too much if you try to make this project!!
Shop the products
I've listed the products I used for today's card below. You can click on any of the links to see that product in my online shop. The Alphabest stamp set and the Best Label punch can be purchased separately but if you buy them as a bundle you'll save 10% so I've shown both options in the Product List below.
If you spend £45 (before P&P) or more before 31 August 2022 you will earn a Sale-A-Bration free product. Don't miss out on a freebie, shop now…
When you shop with me you'll receive a handmade card and gift as a token of my appreciation. If your order is under £150 please use the current Host Code so that I can add in a free product to your customer thank you pack for the month. Find out more on the Host Code page in the main menu.
Happy crafting,
Heather x
Product List