Hello.
Today I'm taking part in a video hop over on YouTube along with a number of other UK based Stampin' Up! independent demonstrators.
Our theme for this month is Embossing Fun! You can take a look at my project on YouTube by CLICKING HERE
Here's the full list of all of the videos in this month's hop. Please click on each link to see what these talented people have created to inspire us all…
Helzie @ SlimmandStylishhttps://youtu.be/2B-c2ZqE-hY
Heather Forgan – Stamp With Nellie – https://youtu.be/eC6DkPoZV2k *** YOU ARE HERE ***
Barry & Jay – Mitosu Crafts – https://youtu.be/JcvSb_t0ndw
Carol Brown – https://youtu.be/2lPPHzy_C4k
Karen Egan – Craftykarendesigns – https://youtu.be/whMm5Xrm8Fo
Gez Carpenter – Nigezza Creates – https://youtu.be/Mb8VJO9wULc
Linda's Papercraft – https://youtu.be/HrGANTZSWRE
JazzleDazzleCraft with Janice https://youtu.be/SP51tmvRHLk
Esther Howard – Stampin Star Creations https://youtu.be/g6PxOiypKec
Jill Chapman Paper Daisy Crafting https://youtu.be/1olngFLmk-M
Tricia Smith, UK, Smith's Crafty Creations – https://youtu.be/CUwuH61STUg
Kate Bolt – https://youtu.be/v8Nxvm_ehPE
Woos Creations – Wendy Le Clerc – https://youtu.be/Z3rC2SzIDaU
Verity Pursglove – Stampin' with Inkybutterfly – https://youtu.be/x_IYAutFCmQ
Yvonne Flitton – https://youtu.be/yegwIRVhrYo
Here's the card I show you how to make in my video…
I used both dry embossing with one of the Wintry 3D embossing folders and I added some heat embossing too to give lots of texture and shine. You can see this in more detail in the video.
Here's my original card along with the one I made in the video, you can see the difference adding more or less ink can make…
My swiping the Versamark ink over the background and adding clear Stampin' Emboss powder you get so much shine!!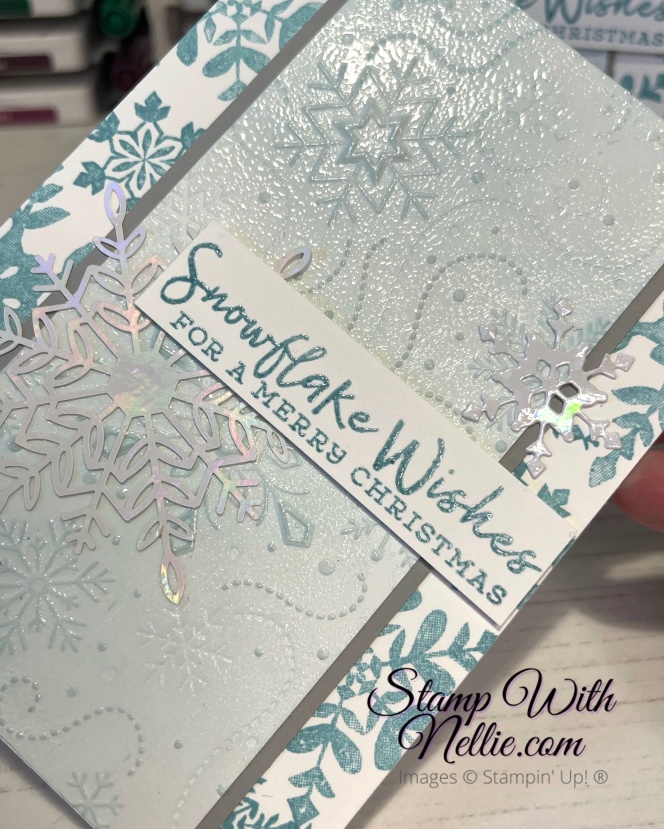 I hope you've enjoyed my Embossing Fun! project and have been inspired by everyone that's taken part in this video hop. I hope you'll take the time to give their videos a thumbs up or a comment if you can.
Shop the products…
I've listed the Stampin' Up! products I used to make my cards below. You can click on any of the links to visit my online Stampin' Up! store at any time. Remember that if your order is under £150 you should use the current Host Code to make sure I can add an extra gift into your Customer Thank You pack. Check out the Host Code page in the main menu for more info.
Happy crafting,
Heather x
Product List