Hello everyone.
Ages ago I bought a pack of 6 pencils with motivational words or phrases on them and I've eventually made boxes for them. Here's the first one I made…
I make a video to show you how to make this box, just click on the image below to take a look…
Here's a photo of the original along with the the one I made in the video, which do you prefer?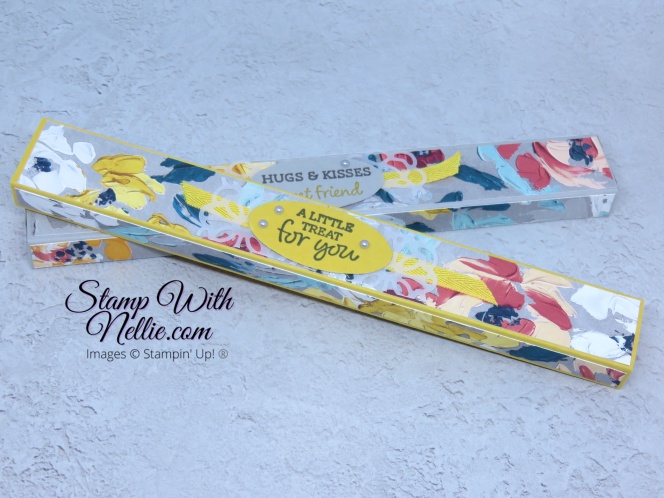 Are you on Team Bumblebee or Team Smoky Slate? Let me know in the comments.
As promised in the video here are the dimensions you need to make these matchbox style boxes:
Card for the drawer that measures 8-3/4″ x 2″; scored on all four sides at 1/2″
Card for the cover that measures 7-7/8″ x 3-1/2″; scored on the short side at 1/2″, 1-9/16″, 2-1/8″ and 3-3/16″ (see the video for help with this)
Fine Art Floral designer series paper that measures:

7-3/4″ x 7/8″ for the top of the cover
7-3/4″ x 3/8″ (two pieces) for the sides of the cover
7/8″ x 3/8″ (two pieces) for the ends of the drawer
I've listed all of the Stampin' Up! products I used in today's video below. You can click on any of the links to visit my online shop. Remember to use the current Host Code when you shop with me so that I can add in an extra gift to your customer thank you pack.
If you have any questions about today's project, or any Stampin' Up! product or promotion please use the contact me form in the main menu to get in touch. I'd love to help.
Happy crafting,
Heather x
Product List