Hello everyone.
I just wanted to share with you how much fun I had at Stampin' Up!'s OnStage event the past few days. As with many things this year, the format of our get together had to be changed to online rather than in person. This did however mean that I didn't have to travel anywhere and I could watch the 8am session in my pyjamas! Lol
I have been lucky enough to attend a couple of in person events in the past and loved them so I wasn't sure I would enjoy the At Home version as much. Although I missed meeting my stamping buddies, hugging them and swapping projects, stories and a whole lot more, it was still awesome!
On Thursday evening we had our recognition event and here are my 3 virtual badges…
It was really cool to see my name appear on screen 3 times and to have my friends congratulate me in the chat section. I loved congratulating my many crafty friends for their achievements too. We celebrated every success together. And we got a concert from Pat Benetar and Neil Giraldo!
On Friday morning we had a Stamp & Share session. All attendees had the opportunity to purchase some brand new products that launch in January 2021, so we could take part in this session. But even if you didn't get the new products you could join in with alternatives, so nobody missed out. Of course, I took the 'excuse' to buy them and here's the 3 cards I made during the craft along session…
I love these layouts, using little bits of coordinating designer series papers so I will be using these designs again, with other products. Watch this space.
Once the session ended on Friday I just had to have another play with the new Dragonfly Garden stamp set, Dragonflies Punch and Dandy Garden designer series paper. Here's what I created…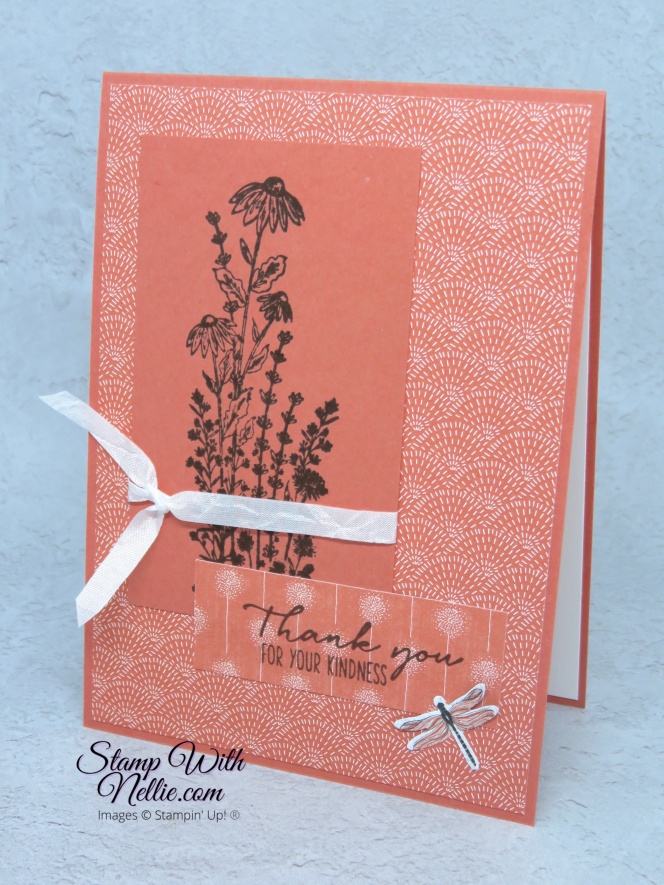 I made my usual card base with Calypso Coral card measuring 29 x 10.5 cm; scored and folded at 14.5 cm then added a layer of the Dandy Garden paper measuring 10 x 14 cm. I cut a piece of Calypso Coral card to measure 6 x 10 cm and stamped the floral image with Early Espresso ink. I added some seam binding ribbon to this piece of card before adding it to my card base.
I also stamped the sentiment from the same set with the same ink, onto another piece of the Dandy Garden paper pack.
The tiny dragonfly was also cut from the designer series paper using the Dragonflies punch. This punch cuts 2 different sizes of dragonfly.
I also stamped the inside of the card…
And we were all reminded that we shouldn't have 'naked' envelopes so I stamped mine too…
The sessions on Saturday were full of inspiration, tips and tricks. I learned SO much whilst getting to see more of the amazing upcoming products being used by other super talented demonstrators. I want to buy it all!!
Oh and I forgot to tell you that I won a stamp set and got product credit to use on my first order after 1 December 2020. Being a demonstrator definitely has it's perks!
If you'd like to find out more about joining my team just let me know. You too could:
Pay £99 to join but get £130 to spend on the product YOU choose!
Get a discount of 20% (or more) on your own supplies or earn the same amount on your sales to friends and family
Get to take part in great events like OnStage
See the next catalogue in advance (10 November 2020 for the January to June 2021 catalogue)
Have the opportunity to buy new products before they launch (1 December 2020 for the January to June 2021 catalogue)
Be a part of our amazing Stampin' Up! community
Joining Stampin' Up! is one of my best decisions EVER!! And this last weekend reminded me of this so much.
I hope you had a great weekend too.
Happy crafting,
Heather x