Hello everyone.
Today's project is a pocket notepad in more ways than one. It's a notepad that can easily fit in your pocket and it's a origami pocket with a notepad in it…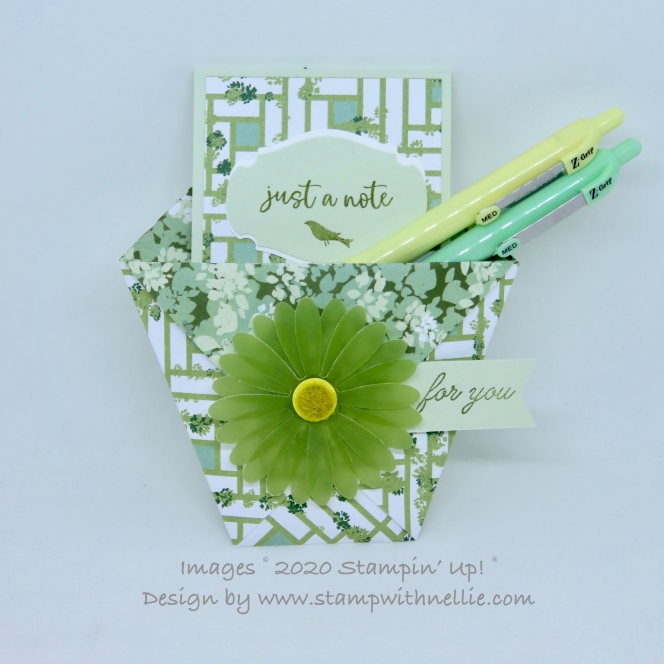 I've often admired these napkin (or diaper) folds but never made one. I remembered that my lovely friend Jill made some at Christmas for After Eight mints so I had a look at her video tutorial to see how they're made. If you'd like to check it out too please click here
I needed mine to be bigger to slip in my A7 notepad so I used a piece of the Garden Lane designer series paper cut to 8″ x 8″ and then did the same folding as in Jill's video. With hindsight I might have been better with 9″ x 9″ as the pad would have slid a bit further down.
I used some Soft Sea Foam card to cover the front of my little notepad and then added some more of the Garden Lane paper. I stamped the 'just a note' and the little bird from the Music From The Heart stamp set using Old Olive ink onto Soft Sea Foam card and cut it with my Story Label punch. I cut another label from Whisper White card, cut it in half lengthwise and added it to the back of the stamped one.
To decorate the pouch I stamped the 'For you' from Beauty Abounds in Old Olive ink onto Soft Sea Foam card and trimmed it to fit. I glued the end into the fold to keep it secure.
I used my Daisy Punch on the Old Olive vellum from the Perennial Essence vellum pack to cut 3 daisies and glued them together. I added a 1/2″ circle of Pineapple Punch card to the middle to cover up the glue marks. Then I remembered out those adorable fuzzy Perennial Essence Floral Centers and added one of them too.
I couldn't decide which pen to add it so I added two! I think this would make a nice gift and if you dressed it up in a cello bag then it could make a lovely item to sell at craft fairs.
I hope you've enjoyed today's project. I've listed the products I've used below. You can click on any of the links to visit my online Stampin' Up! shop.
I'd love to be your chosen demonstrator.
Happy crafting,
Heather x
Product List