Hello and thanks for visiting.
I'm a big fan of Bath & Bodyworks antibac gels but as we don't have these stores in the UK I have to stock up when I'm in USA or Canada. So I'm delighted to see that in the UK we are getting some nicer antibacterial gels these days to keep me happy until I can stock up again. I spotted some Love Hearts ones recently and thought they'd make nice little gifts so I made these boxes for them…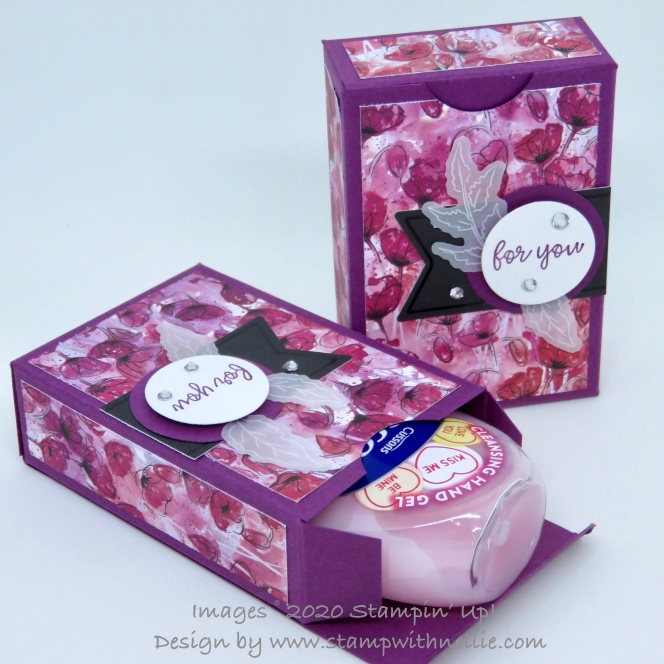 These are bigger than the Bath & Bodyworks ones so I had to resize my box. I used Rich Razzleberry card that measures 7″ x 5-3/4″ (which means you can get 2 from 1 sheet of A4 card). I scored the long side at 2-1/4″, 3-1/4″, 5-1/2″ and 6-1/2″. I scored the short side at 1″, 4-1/4″ and 5-1/4″. The finished box measures 3-1/4″ x 2-1/4″ x 1″
I cut two pieces of Peaceful Poppies designer series paper (DSP) to measure 2″ x 3″ for the front & back, two pieces to measure 3/4″ x 3″ for the sides and one piece to measure 3/4″ x 2″ for the top. If you use a directional patterned paper you need to change the direction for the top piece and glue on upside down when you follow this cutting guide…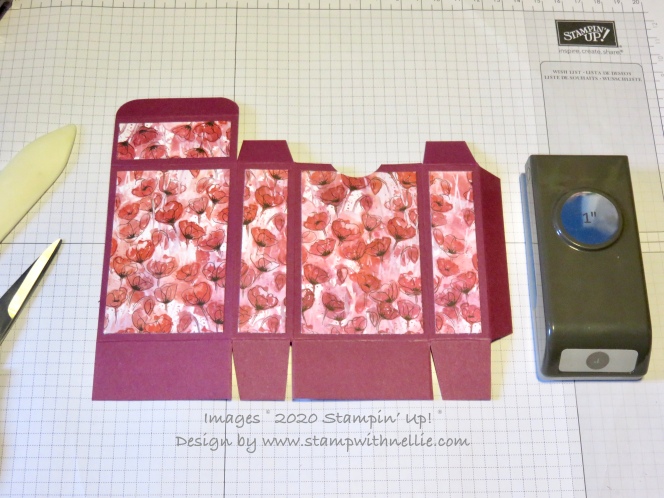 I used my 1 inch punch to create a thumb notch to make the box easier to open. I also rounded the corners on the top to make it easier to close the box.
Add glue to the skinny panel and attach it to the back of the first panel to form the box. Then fold in the bottom flaps with the sides first, then the back and finally the front one.
I used some of the Peaceful Poppies Elements to decorate the front of the boxes. I cut the black banner element in half and glued it first.
I stamped the sentiment from the So Sentimental stamp set using Rich Razzleberry ink onto Whisper White card and cut it with my 1″ circle punch. I used a retired 1-1/4″ inch to cut another circle from a scrap of Rich Razzleberry card left over from making the boxes. I added the stamped circle to the card one with a Stampin' Dimensional and glued some of the vellum elements underneath the edge so you don't see any glue marks. Finally I added some rhinestones…
I think these are really pretty and might make a few more to add to my next craft fair stall.
I hope you've enjoyed this project. I've listed all of the products I've used below. You can click on any of the links to visit my online Stampin' Up! store to shop with me. I would be honoured to be your chosen independent demonstrator.
Happy crafting,
Heather x
Product List