Hello.
I recently stepped out of my creative comfort zone to take part in an ink blending challenge in the "Crafty Stamping Club – Smiths Crafty Creations" Facebook group and I really enjoyed it. So I've had another go at blending but for a very different look…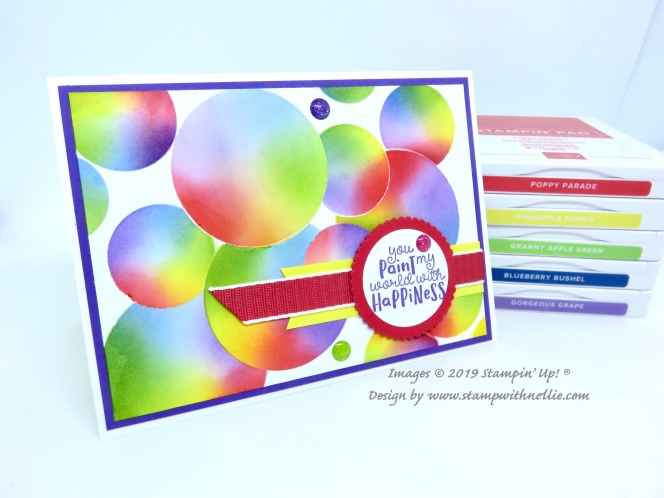 This time I created some very colourful bubbles! You can see the ink pads I used in the background. Although I will admit that my Blueberry Bushel pad obviously needs a top up as it's rather pale on my card.
To create this effect I used my Layering Circles dies to cut different sized holes in a piece of Whisper White card to use as a template. I kept the circles cut out so that I could use them to mask areas to avoid overlaps. I think I need a bit of practice at this though as I've left a few gaps instead.
I used make up blending brushes to blend my 5 different ink colours, remembering to only use 1 brush on each pad. The trickiest part was trying to keep my fingers free of ink so that I didn't get any on the bits I wanted to keep white, lol.
My card base is Whisper White Thick card measuring 21 x 14.5 cm, scored and folded on the long side at 10.5 cm to create a landscape tent fold.
I added a piece of Gorgeous Grape card measuring 10 x 14 cm and then my stamped piece trimmed down to 9.5 x 13.5 cm.
I added a piece of Pineapple Punch card measuring 2 x 8 cm, with a V cut out of one end. I then added some Poppy Parade ribbon with Tear & Tape adhesive.
I stamped the sentiment from the It Starts With Art stamp set using Gorgeous Grape ink onto Whisper White card. I cut this with a Layering Circles die and used a larger scalloped die on a piece of Poppy Parade card. I added the circles to the card with Stampin' Dimensionals.
I added some Glitter Enamel Dots for that extra bit of sparkle.
I think I might be hooked! It just goes to show that stepping out of your comfort zone every now and then can lead to fun. I really enjoyed making this card.
I've listed the Stampin' Up! products I've used below. You can click on any of the links to visit my online shop.
I would love to be your independent demonstrator.
Happy crafting,
Heather x
Product List