Hello.
Today's project is a chocolate treat holder. I noticed a few new Winter Edition Ritter Sport bars in my local shop and thought they'd make nice little gifts. My original plan was make a box but then I remembered a treat holder I made last Christmas…
When you pull the ribbon it slides the chocolate bar out. I wasn't sure if it would work with a 100g bar of chocolate but decided to give it a go anyway…
And it worked….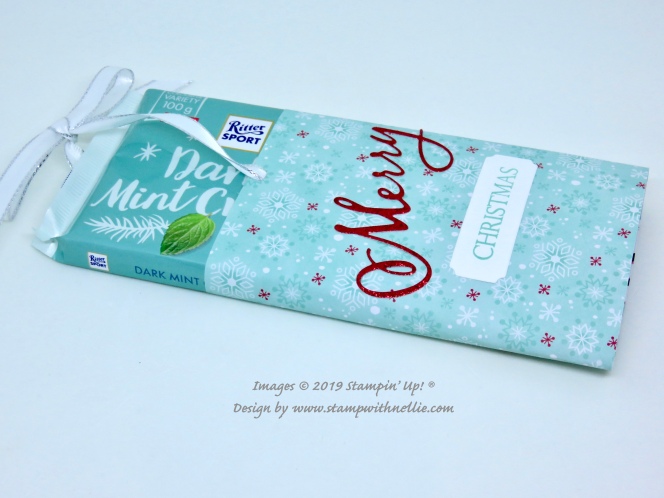 I used a piece of Let It Snow speciality designer series paper that measured 9 x 5 & 1/2 inches. I wrapped this around my chocolate bar and glued the edges together on the back. The paper could have been shorter than 5 & 1/2 inches but I wanted to make sure the chocolate was well concealed until you pull on the ribbon.
I punched the 2 holes at the top for the ribbon to slide through with my Detailed Trio Punch.
I die cut the word Merry from Real Red Glimmer paper, using the Merry Christmas dies. I used the coordinating Merry Christmas To All stamp set with Coastal Cabana ink to stamp CHRISTMAS onto Whisper White card and then used another of the Merry Christmas dies to cut it out. Both elements were simply glued to the front of my packaging.
I wrapped some Silver Metallic Edged ribbon around my chocolate bar and then slid it into the wrapper. I pulled the ribbon through the 2 holes at the top and tied the ends in a bow.
So quick and easy to make!
I hope you've enjoyed this quick project. I've listed the Stampin' Up! products I've used below. You can click on any of the links to shop with me and I'd be honoured to be your demonstrator.
Happy crafting,
Heather x
Product List