Hello and thanks for joining me.
Today's project was CASE'd (Copied And Selectively Edited!) from the lovely Amanda Charlesworth (aka Scrimping Mommy). I've made similar things for craft fairs in the past but liked that Amanda's version holds both a little notepad and a sticky note pad.
I'm trying to make more gender neutral gifts to sell at my craft fairs this year so decided to use the Follow Your Art suite for my version…
Amanda used 12″ x 12″ card for her project and I didn't have any in Pacific Point so I adjusted her measurements so I could use A4 card instead. Here's Amanda's tutorial…
To make my version I cut down a piece of A4 card to 5 & 3/4 inches wide, but didn't trim the length. I scored this on the long side at 2 inches, 2 & 1/2 inches, 5 & 3/4 inches, 9 inches, 10 inches and 11 inches. On the short side I scored at 1/2 inch, 1 inch, 4 & 3/4 inches and 5 & 1/4 inches. Everything else was the same as Amanda's directions, the only difference is my finished holder isn't quite so tall. As a result, I didn't add the paper clip to the front as that might have made it topple forward.
Instead I added a sentiment from the Crafting Forever stamp set using Pacific Point ink onto Whisper White card and cut it twice with the Everyday Label punch. I lined up the sentiment to the left of the punch and cut the first time. I then put the label back into the punch to cut off the excess on the right hand side. I punched another label from Pacific Point card and cut off the ends to add to the back of the stamped label and then added them to the front of my stationery holder.
I also added some of the felt elements from the Follow Your Art embellishment kit.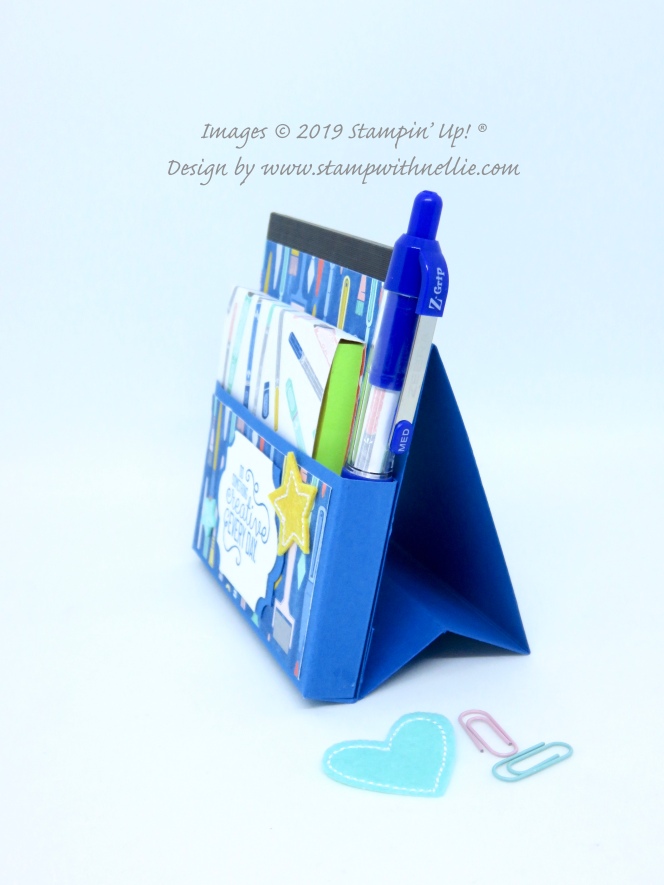 I added some of the Follow Your Art designer series paper to the inside of the barrel of my mini pen.
The notepad and the sticky notes were decorated following Amanda's instructions but using 2 designs from Follow Your Art designer series paper for a bit of contrast.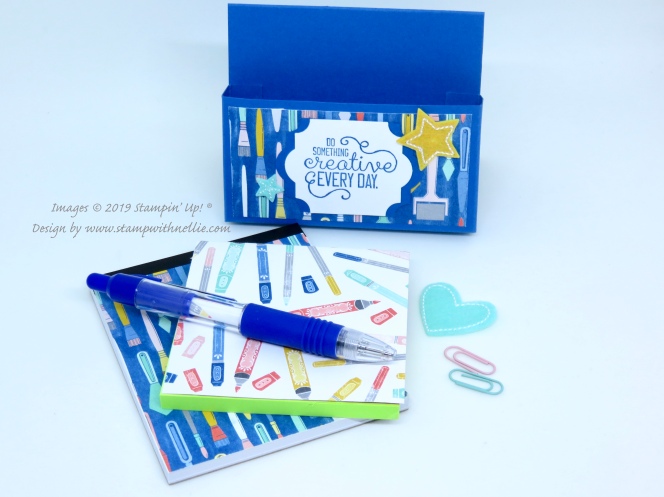 I hope you've enjoyed today's project. I've listed the Stampin' Up! products I've used below. You can click on any of the links to start your shopping.
Happy crafting,
Heather x
Product List