Hello and thanks for joining me.
The lovely Patricia Smith set up this sketch challenge in her Facebook group 'Crafty Stamping Club – Smiths Crafty Creations' and entries had to be in by today. Just call me last minute Nellie!
I decided to use the gorgeous Woven Threads designer series paper and created this card…
To make the main panel I cut 2 pieces of paper that measure 8 x 12 cm and drew my cutting lines on one of them. With them stacked together I then cut along the lines and rubbed out any pencil marks. This means that I actually had enough pieces for a second card, which I'll come to soon.
I added my sections in the order I preferred to a piece of Sahara Sand card that also measures 8 x 12 cm to make it easier to add them to my card. I backed this with Terracotta Tile card measuring 8.5 x 12.5 cm.
My card base is Whisper White thick paper measuring 21 x 14.5 cm, scored and folded on the long side at 10.5 cm. I added a piece of Terracotta Tile card measuring 10 x 14 cm.
I cut a piece of Sahara Sand card to measure 9.5 x 13.5 cm and before I added it to my card I stamped it with the long stamp from Woven Heirlooms in Versamark ink, added clear embossing powder and heat set it. I really like the extra texture and shine this adds to the card.
I used my Starburst punch to cut the medallion piece from another piece of Woven Threads paper and added this to the top corner of my central piece then snipped off the excess.
The sentiment from Woven Heirlooms is stamped in Terracotta Tile ink onto Sahara Sand ink and cut with my Classic Label punch. I used my 1/2 inch punch to add the extra circle of DSP to the label and added it to the card with foam adhesive strip. My final touch was adding a bow made with 2 pieces of Linen Thread with a glue dot…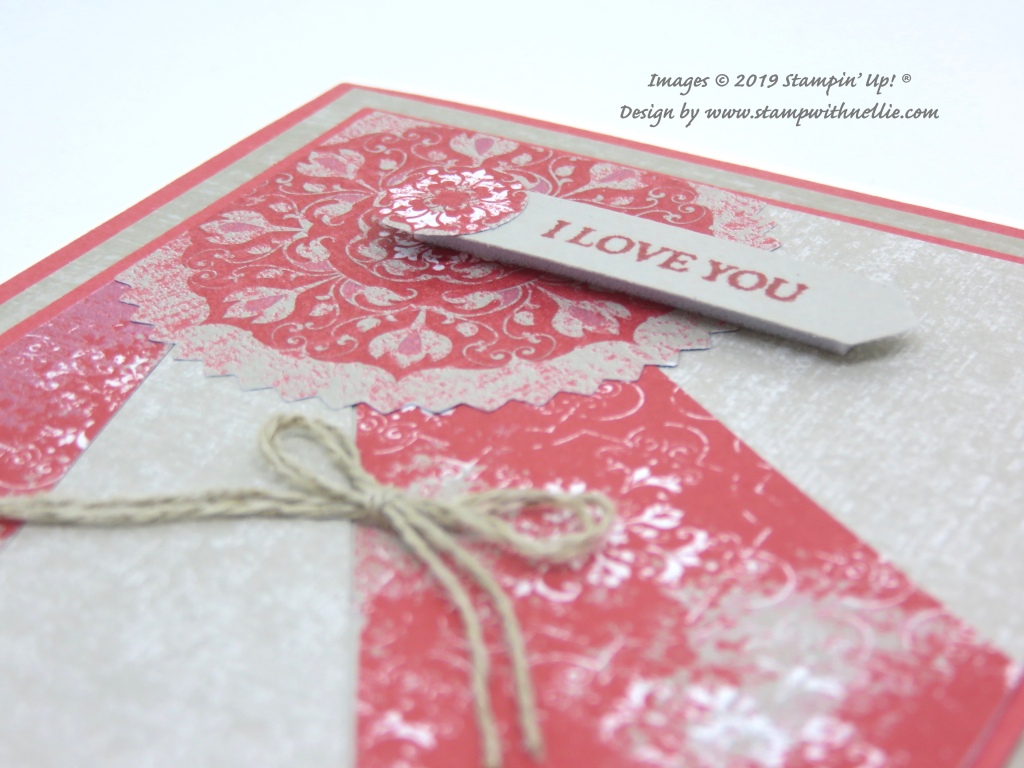 To make my second card I turned the remaining pieces of DSP over to show the alternative patterns. To make this work I turned the design upside down too…
This time the card base is Purple Posy and I matted the DSP section with Rococo Rose.
I stamped the sentiment from Woven Heirlooms in Rococo Rose ink onto Whisper White card and the flourishes in Purple Posy ink, using my Stampin' Write marker as I don't have the ink pad. I cut this with my Layering Circles die, added it to the DSP section then trimmed off the excess. I added a Purple Posy faceted dot for that little bit of bling.
I hope you've enjoyed both of these cards. Why not join Patricia's group and join in with these fun challenges and get lots of support and encouragement from the other members of the group. It's a fun place.
I've listed the products I've used for both cards below. You can click on any of the links if you'd like to buy and of them.
Happy crafting,
Heather x
Product List