Hello.
Today's project is a match box style box to fit a Vaseline lip balm tin in coordinating colours…
In my opinion, the card embossed with the Country Floral embossing folder is too pretty to hide with any kind of sentiment so I took a different approach and stamped my message onto vellum and added it inside the box…
To create the reinforced sided tray I used a piece of Whisper White Thick card that measures 5 & 3/4 inches square. Score this on both sides at 1/4 inch, 1 inch, 1 & 3/4 inches, 4 inches, 4 & 3/4 inches and 5 & 1/2 inches. You need to cut away most of the corner parts using the following guide…
You should have 4 quarter inch panels at the outer edges and you need to mitre these so that they don't overlap too much when the box is put together. You make the base of the box by folding in the 4 wedged tabs as normal but before you do, you'll need to create a hole in one side panel to thread your ribbon through…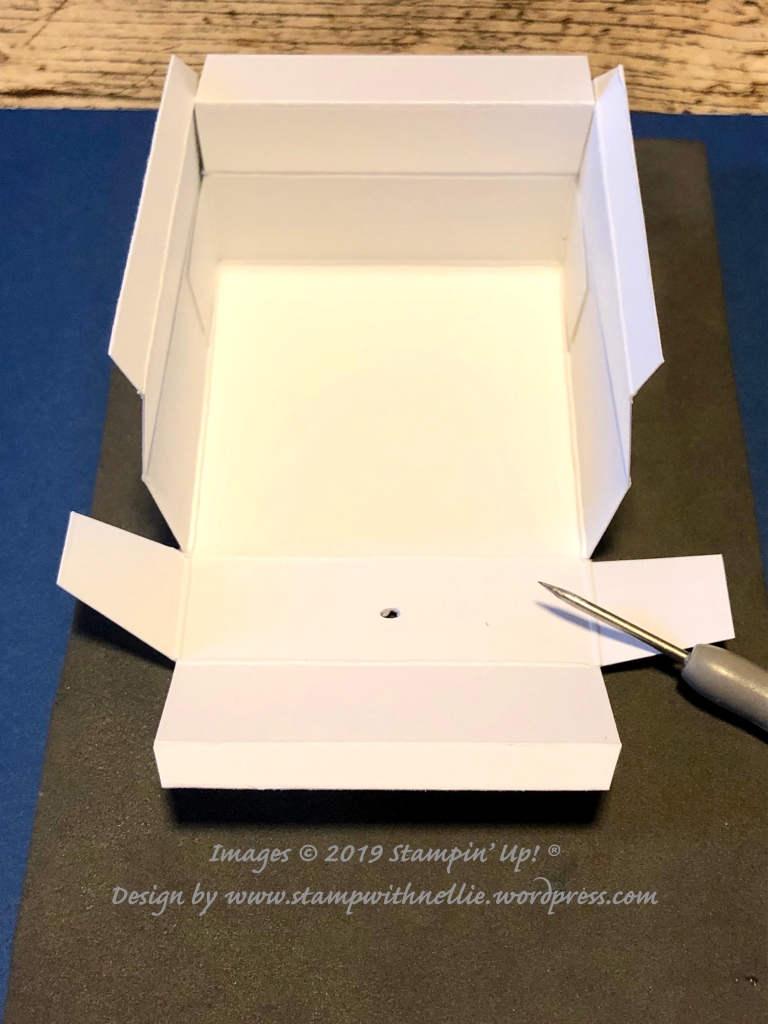 Put your ribbon ends through the hole from the front to back and then tape the ends in place either side of the hole…
Add glue to the insides of the remaining panels and fold them inwards to reinforce the sides…
After taking this photo I decided to add a piece of Blueberry Bushel card to the bottom of the tray as an extra feature. And I tidied up that messy bit beside the ribbon with my paper snips, lol.
The outside of the matchbox is made from a piece of Blueberry Bushel card that measures 2 & 3/8 inches by 7 inches. This allows a decent overlap on the bottom. I started by wrapping this around the tray and creasing the first edge, scoring it, wrapping it again, creasing the next edge, scoring etc until I had gone right round the box. I find that this gives a neater fit than just measuring and scoring.
I cut Whisper White panels for the top ( 2 & 1/8 inches square) and sides (2 & 1/8 inches by 5/8ths of an inch) and then cut panels of Blueberry Bushel slightly smaller. I ran the Blueberry Bushel pieces through my Big Shot in the Country Floral embossing folder and then added them to the white panels and then onto my box. It's much easier to cut and then emboss than to emboss and then cut.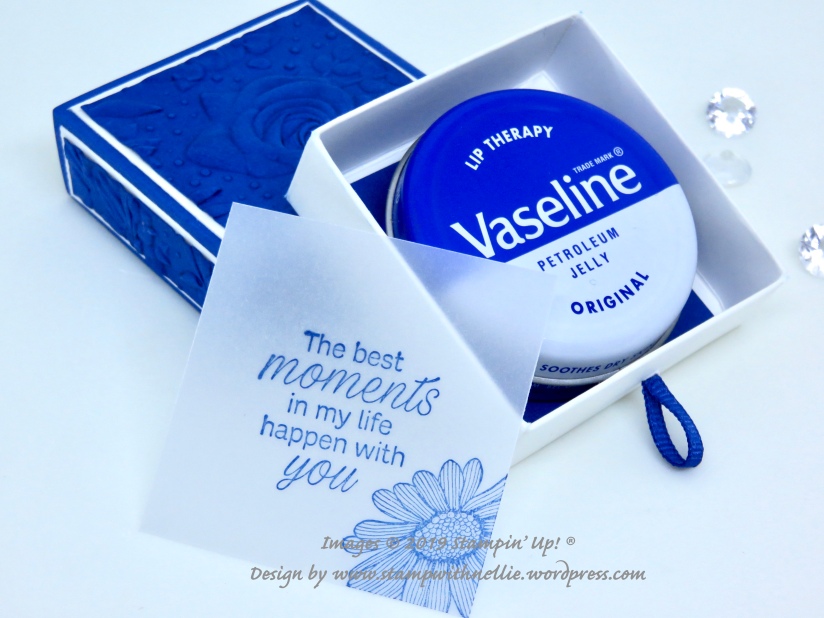 I think the colours of my box match the tin pretty well and this would make a nice little gift to a best friend; just because!
I've listed the products I've used in today's project below. You can click on them to visit my friend Valerie's online Stampin' Up! shop if you'd like to purchase any of them.
Happy crafting,
Heather x
Product List