Hello and thanks for joining me.
When I first saw the Delightfully Detailed Laser Cut Speciality Paper in the Stampin' Up! 2018-2019 Annual Catalogue I thought it was really pretty but probably a bit too delicate and a bit fiddly for me. But when it was free during Sale-A-Bration I thought I'd give it a go and I LOVE it!
I've used a few of the part of the sheets that are designed to be cut up and used on the Delightfully Detailed Note Cards but I hadn't used any of the full sheets until now. I started by using the corner sections to measure around 9 x 13 cm
I left the border on the corner pieces but you could trim that off if you prefer. I made my usual card bases (21 x 14.5 cm, scored and folded on the long side at 10.5 cm) and added some of the Nature's Poem designer series paper to them before adding the Delightfully Detailed pieces. The photo above shows the Whisper White side and the following one shows the Very Vanilla side…
Once I'd used the four corner sections I still had plenty left to add to cards like this…
This one also has a little bit of the edging detail that's part of the other sheet of the Delightfully Detailed paper. On this card, the piece I used wasn't quite big enough for the whole card front so I added in a few leaf parts left over from other sections.
I've still got all of these card fronts ready to decorate with ribbon and a sentiment for whenever I need them…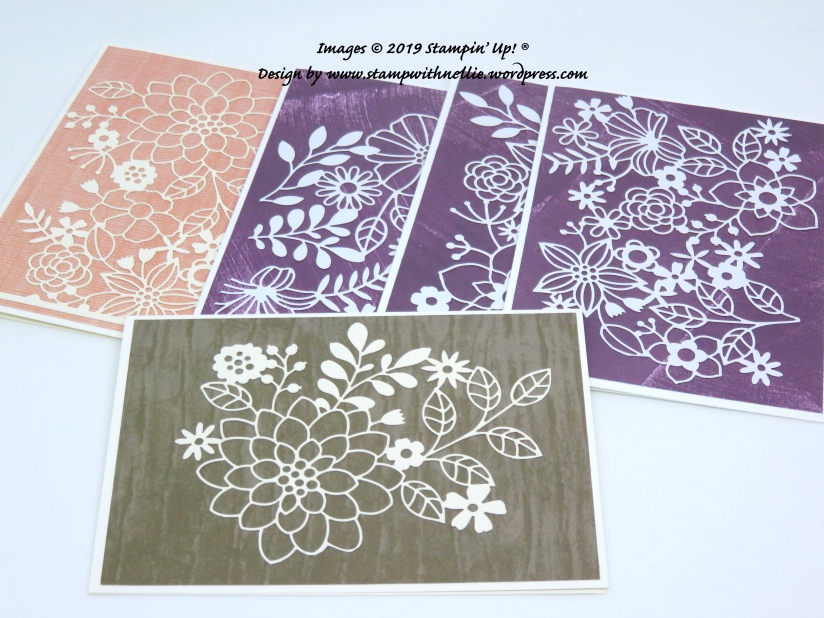 Not bad for 1 page of paper from a pack that has 4 of these full sheets and 4 of the other design too. A little certainly goes a long way.
I hope you've enjoyed these cards, I'm certainly happy to have them in my stash and almost ready to send.
I've listed the main products used today, excluding the ribbons and sentiments etc as there's too many! If you have any questions on any of them just let me know.
Happy crafting,
Heather x
Product List