Hello!
Today I'm meeting up with crafty friends and as is our tradition we make projects to swap with each other.
I bought lots of lip balms and created these little packages for them…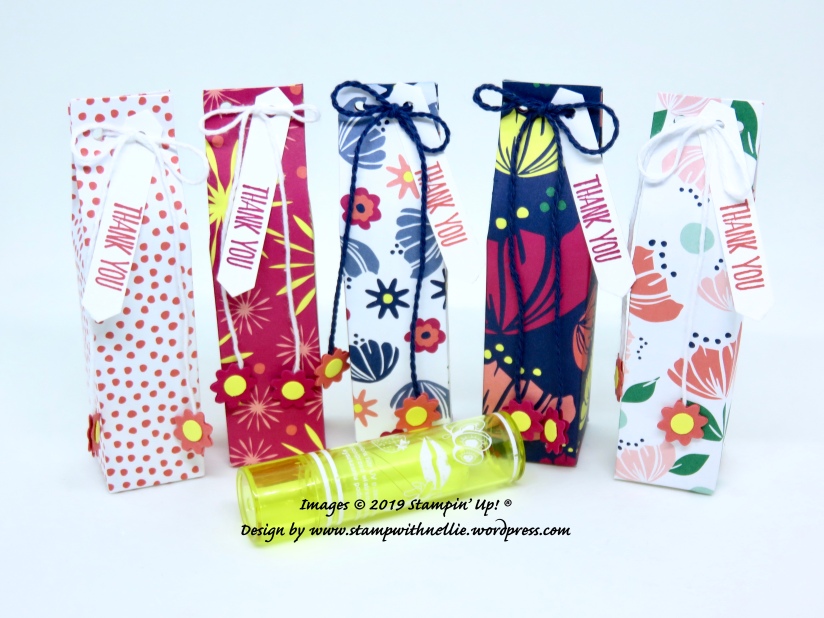 I've used Happiness Blooms designer series paper for all of them. I love all of the designs in this pack so it was tough to choose which ones to use.
Each one uses a piece of paper measuring 5 by 4 & 1/4 inches. This is scored on the short side at 1, 2, 3 & 4 inches. It is also scored on the long side at 1 inch. This means that it creates a box with a 1 inch square base and measures 4 inches tall when assembled.
I added my lip balm inside as soon as I glued the box together and then simply squeezed the top together to punch holes for the bakers twine. I used my Crop-a-dile as it easily goes through 4 layers of paper at a time. Each box has 2 holes punched at the top.
I stamped the THANK YOU from the All Things Thanks stamp set in either Lovely Lipstick or Calypso Coral onto Whisper White card and used by Classic Label punch to cut it out. I also punched a 1/8th inch hole in this label so it could be added to the twine.
I alternated between Whisper White solid bakers twine and Night Of Navy medium bakers twine for my boxes. The twine goes through the label and the holes in the box and is tied in a bow, with very long tails.
I used Lovely Lipstick and Calypso Coral card for the flowers that were cut with the Bitty Blooms punch set. I used Pineapple Punch card for the centres of the flowers. Each box has 4 flowers, with 2 of them being glued to the each end of the twine.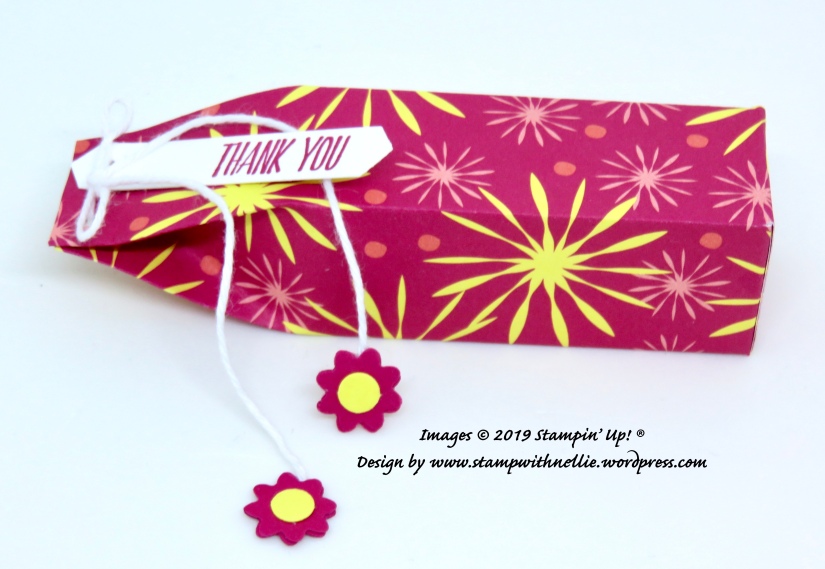 It was only after I started making a few of these that I counted up that each box required a total of 12 punches (2 for the holes in the box, one for the label, one for the hole in the label, 4 for the flowers and 4 for the flower centres). Ouch!
I hope that my friends will like these little gifts and I can't wait to see what they've all made to swap. I'll share them with you soon.
I've listed the products I've used in today's project below. You can click on any of them to visit my online Stampin' Up! shop. I'd be honoured to be your independent demonstrator.
Remember to check out my Host Code page before you shop to make sure that you get the best value for money.
Happy crafting,
Heather x
Product List