Hello!
As promised in my blog post yesterday, today's project is made with another FREE Sale-A-Bration product – ooh I love a freebie! Especially when it's shiny and shimmery!!
With a qualifying spend during Sale-A-Bration 2019 you can earn a pack of 8 Foil sheets – 4 Lovely Lipstick and 4 Grapefruit Grove. I chose to use the Lovely Lipstick ones for this pencil box…
After being brave last week and heat embossing vellum I decided I'd try to heat embossing these foil sheets too. It worked really well on the Lovely Lipstick but please learn from my mistake and don't try it on the Grapefruit Grove sheets. The heat gun ruined the iridescent look of the Grapefruit Grove sheets so I wouldn't recommend it.
I made these boxes to hold some cute pencils and erasers I bought in a pound shop and a few giant paperclips decorated with the sadly sold out Sale-A-Bration ribbon pack, plus some Gold Library Clips…
I think this makes a cute little gift set for any stationery lover – young or old!
The tray of the box is made from Whisper White Thick card that measures 9 & 1/2 by 4 & 1/4 inches. Score this at 3/4 inch on each side and trim the little tabs on the corners to fold up to form the tray.
The cover for the box is Lovely Lipstick foil measuring 8 & 1/8 inches square. I used my paper trimmer to score this as it allows you to measure in 1/16ths of an inch and that allows you to get a close fitting but easy to open box for your drawer base. I scored the foil at
1 & 1/2 inches
2 and 5/16th inches
5 and 1/8th inches
5 & 17/18th inches
Before folding and burnishing the score lines I added my stamping in Versamark Ink. You need to take your time over this as it's easy to slide your stamp and get smudges. I found it was easier to stamp furtherest away and work back towards yourself so there's less chance of fingerprints in you ink.
The small flower stamp is from the Amazing Life stamp set and the larger one is from Bloom By Bloom. Once I finished the stamping I sprinkled each piece with Clear Stampin' Emboss powder and then heat set it. Make sure you warm up your heat gun before you start to melt the embossing powder.
I then burnished the score lines and wrapped the foil around the empty Whisper White tray to get a good fit. I joined the ends on the base with Tear & Tape.
The final touches were to add some Glitter Enamel dots to some of the little flowers and tie both boxes with some ribbon. I used Lovely Lipstick on one and Whisper White on the other.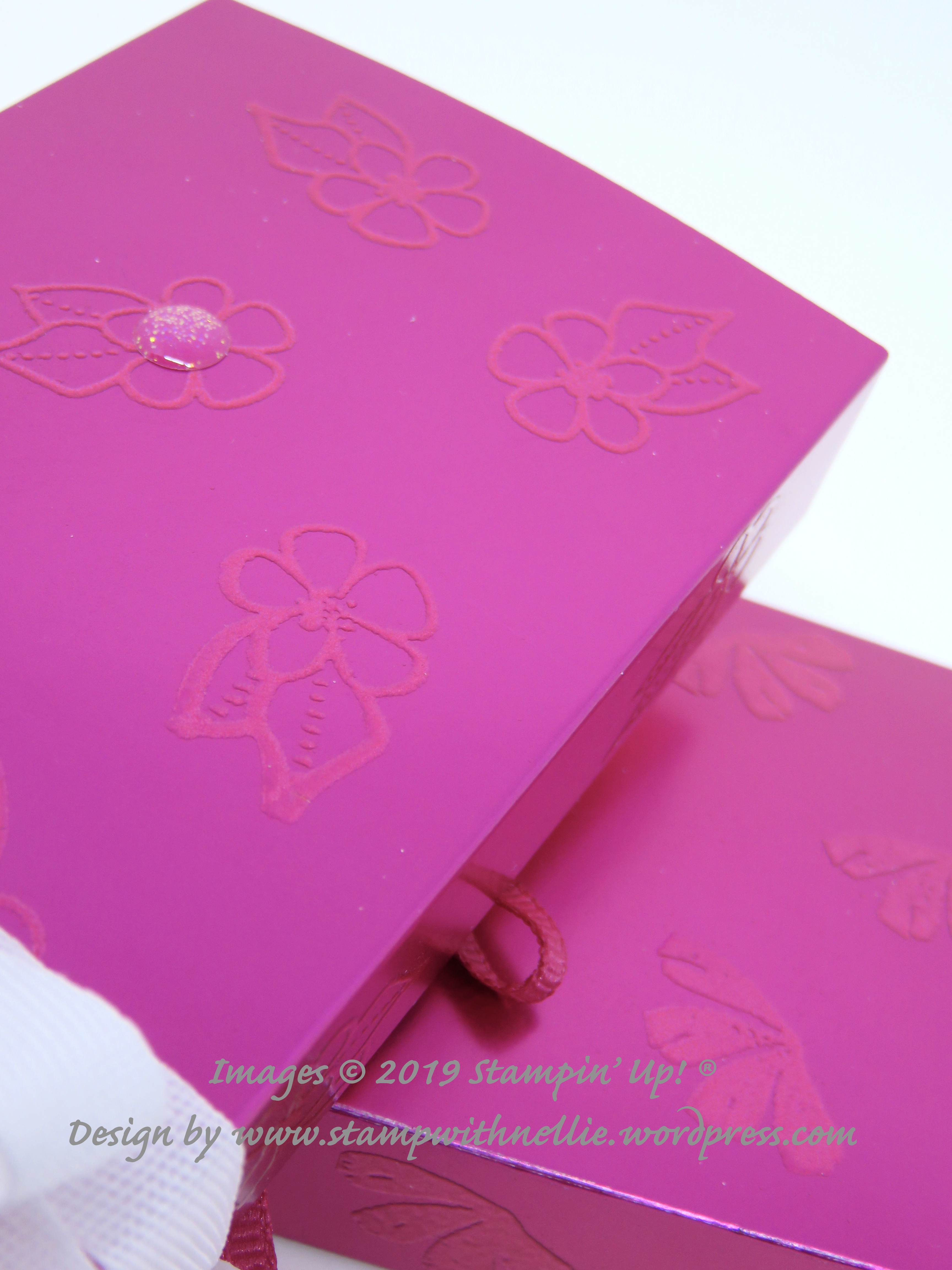 I think the clear heat embossing is quite effective, don't you?
I've listed all of the Stampin' Up! products I used in today's project below. Remember, you can't buy these foil sheets and you can only earn them with a qualifying spend before 31st March 2019.
Please let me know if you have any questions about this project, Sale-A-Bration or any Stampin' Up! products.
Happy crafting,
Heather x
Product List