Hello.
I'm still not really organised for Christmas and it's only days away now – eeek!
I haven't gifted this yet but I thought I'd risk sharing it with you anyway. I bought some gift vouchers for friends that were rather large and I didn't just want to hand them over in an envelope so I decided to gift them with a bottle of wine. That's when I decided to make a wine bottle tag and make a pocket in the back for the gift vouchers…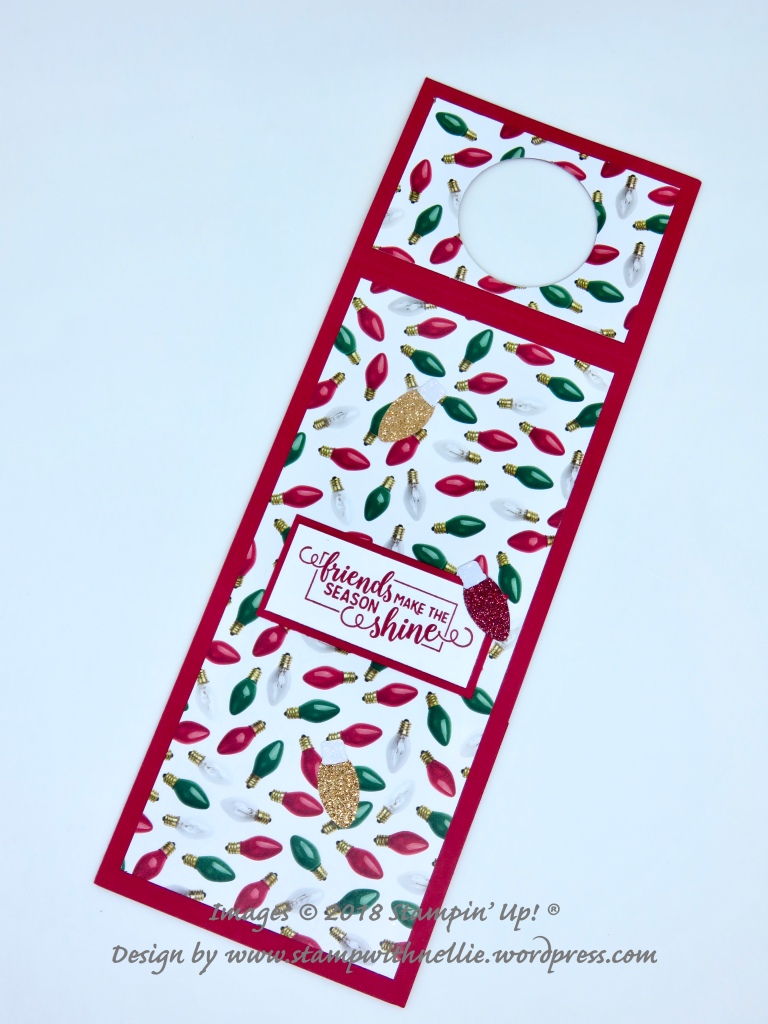 I used Real Red card and All Is Bright designer series paper and my 2 inch punch for the hole in the top. The tag is 4 & 1/2 inches wide and 8 & 1/4 inches long to accommodate my large vouchers. I added an extra piece of card to the back for the pocket and cut the circle I punched in half and glued it in place so that I could tuck the vouchers under and keep them securely in place. The sentiment was stamped in Real Red ink onto Whisper White card then backed with Real Red card to help it stand out a bit better. The stamp is part of the Making Christmas Bright set which coordinates with the Bulb Builder punch that I used with some glimmer paper to add some extra bling.
Then I remember seeing someone had made a little box for a bottle to stand in and then enclosed it in a gusseted cello bag (I used some that were in the clearance rack but have since disappeared, probably because they were such a bargain price!) I can't remember who did that project and can't find it despite a search. If you know who it was please let me know so that I can give them full credit.
I made my box with Real Red card that is 11 inches square. I scored along each side at 2, 4, 7 and 9 inches. And used this template for cutting and adding Tear and Tape..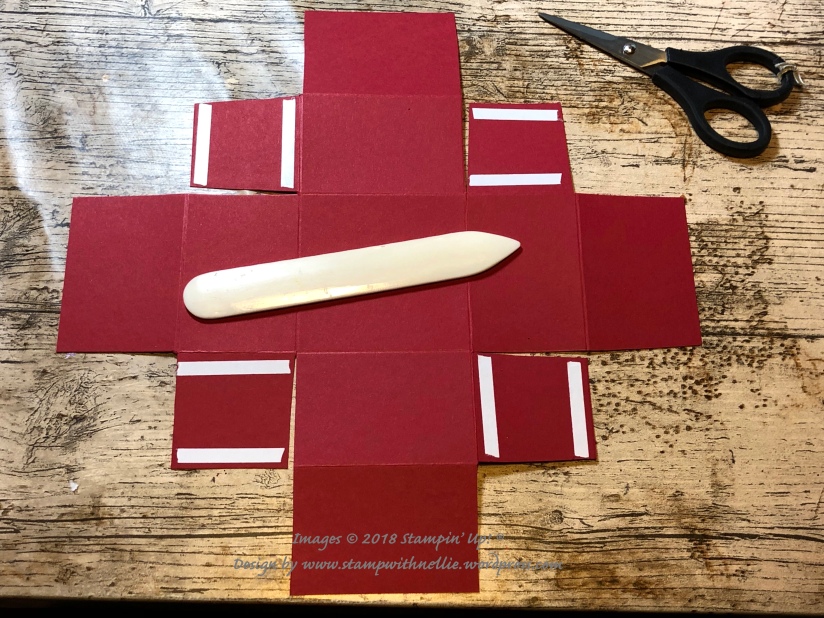 This gives you a box with reinforced sides and then I added an extra layer of Real Red card measuring 3 & 7/8ths square to reinforce the base of the box. I added matching DSP to the sides of the box.
The final stage was to put them together, pop it into a cello bag, throw in a few chocolate (because, why not?!) and tie the top with some Whisper White ribbon.
I hope you'll agree that this is a much nicer way to give vouchers than in a boring envelope. Plus the recipients get to drink the wine and eat the chocolates while deciding how or when to use the vouchers.
I've listed the Stampin' Up! products I've used below and you can click on them to visit my online Stampin' Up! shop at any time.
Remember to check out the discounted products in both the End of Year Closeout and the Clearance rack while you're there.
Happy crafting,
Heather x
Product List