Hello.
I shared with you a few days ago that crafting is my therapy against all the trials and tribulations of life.  That's why I try to make time to be creative every day.  Sometimes, it's just not possible, but to me it's worth finding the time whenever I can. It soothes me and helps me to relax and if that means that I sleep better, then everyone around me benefits from that too! Lol
Don't get me wrong, there are times when I sit down in my craft room, all ready to be creative and draw a complete blank.  When that happens I do one of a few things..
Reach for the Stampin' Up! catalogue – it's a great source of ideas with lots of examples of the products in use
Visit Pinterest for inspiration – this can be counterproductive, as you end up getting drawn further and further in and can spend all your time looking and have no time left to actually do!  Or is that just me?
Revisit a card I've made before and do it in other colours, with different paper or add some other twist to it (there's no point reinventing the wheel!)
Grab a stamp set that needs some colouring, decide which colouring tools you want to use and just get on with it!
This card was the product of the last option…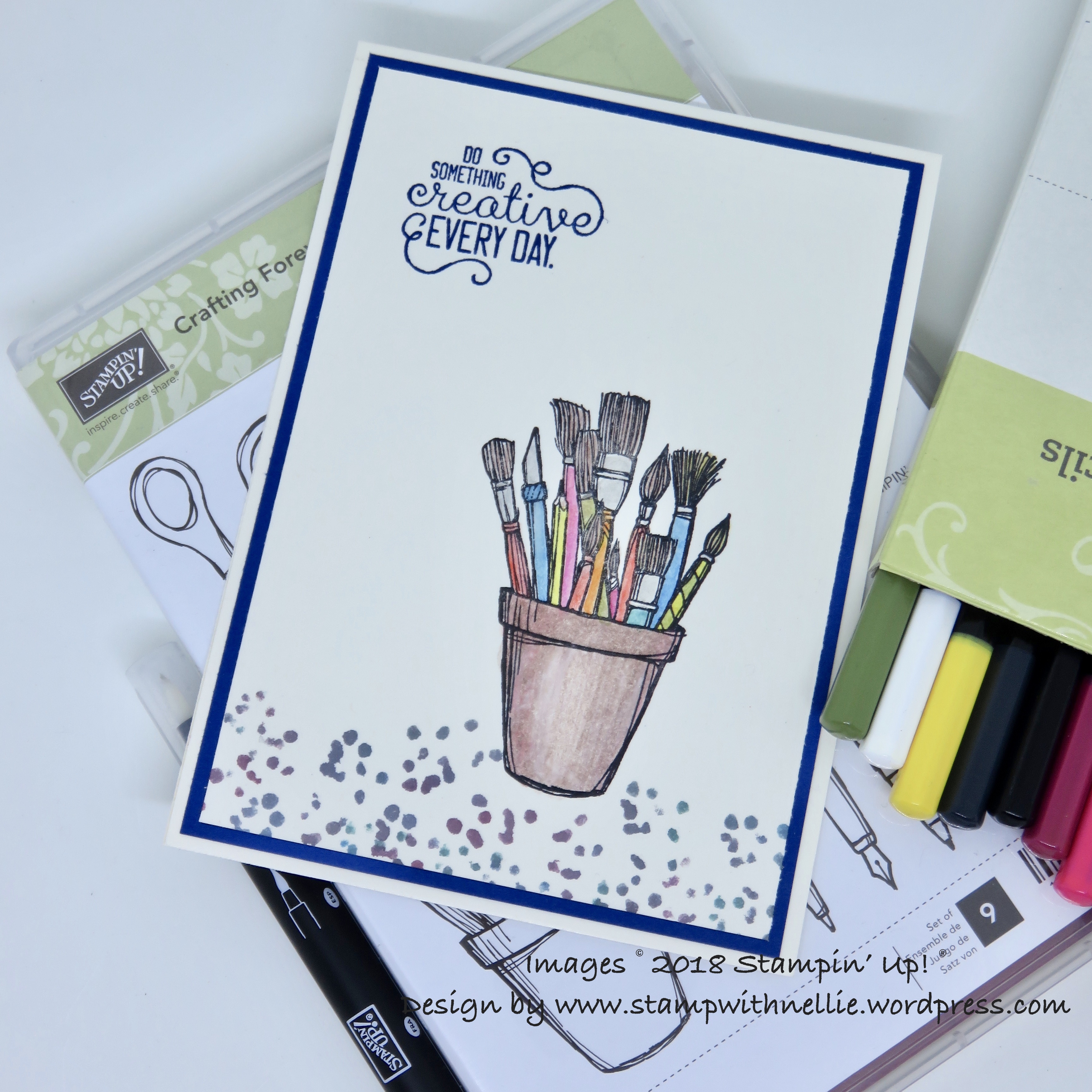 I hadn't ever used the Crafting Forever stamp set, but I really love the sentiment of "Crafting Forever! Housework Whenever" this could be my motto!
I stamped the paintbrush pot in Jet Black Stazon ink onto Very Vanilla card that measures 9.5 x 13.5 cm.  I then used my watercolor pencils and a blender pen to colour it in.  Just be careful to not overwork it and damage the surface of the card.
I added the sentiment in the top left corner in Blueberry Bushel ink.
I then did an alternative to the 'baby wipe' technique.  I don't have lots of reinkers but I do have Stampin' Write markers.  I scribbled a few onto an acrylic block and spritzed it with water, mixed it up a little bit with a paint brush and used this with a small dots stamp from Beautiful Blizzard to add the paint drips along the bottom of the card.
I then added my stamped and coloured panel onto a piece of Blueberry Bushel card measuring 10 x 14 cm and mounted that to my card base.  The card base is Very Vanilla measuring 29 x 10.5 cm, scored and folded on the long side at 14.5 cm to form a portrait tent fold.
I hope you've enjoyed today's card.  If you'd like to make your own version, I've listed the products used below.  If you'd like to purchase any of these products you can click on one to visit my online Stampin' Up! shop.  I'd be honoured to be your independent demonstrator.  Please remember to use this month's host code – see the Host Code page for more info.
Happy crafting,
Heather x
Product List