I spotted a pretty candle while out shopping recently that made me think of Mint Macaron and Daffodil Delight.  It's pretty common for Stampin' Up! demonstrators and customers to think of all colours in Stampin' Up! terms; I know I'm not alone in this!
So, I bought the candle and decided to make this box for it…
Don't you think the colours are a good match?
This box uses a sheet of A4 Mint Macaron card with only a tiny bit wasted.  I scored along the long side at
2 and 3/4 inches
5 and 1/2 inches
8 and 1/4 inches
11 inches
I scored along the short side at
2 and 3/4 inches
6 and 1/2 inches
7 and 3/4 inches
Again on the long side I scored to the top horizontal score line at
1 and 3/8 inches
6 and 7/8 inches
I used these 2 short scores as a guide to score diagonal lines from the 1st score line to the 2nd one.
I cut along the score lines to create flaps to form the bottom and trimmed off the skinny panel to help the box close.
This works the same way as any Milk Carton style of box but because the top section is so short it actually folds to give an almost flat top.  As you'll see I just used a Gold Library Clip to keep it closed.
I cut 4 panels of Nature's Poem DSP measuring 2 and 1/2 by 3 and 1/2 inches and glued them to each side of the box.
I cut a panel of Whisper White card measuring 2 x 3 inches and stamped the sentiment from Botanical Bliss in Mint Macaron.  I stamped the flowers and bee from Touches of Texture in Daffodil Delight and Stazon Ink.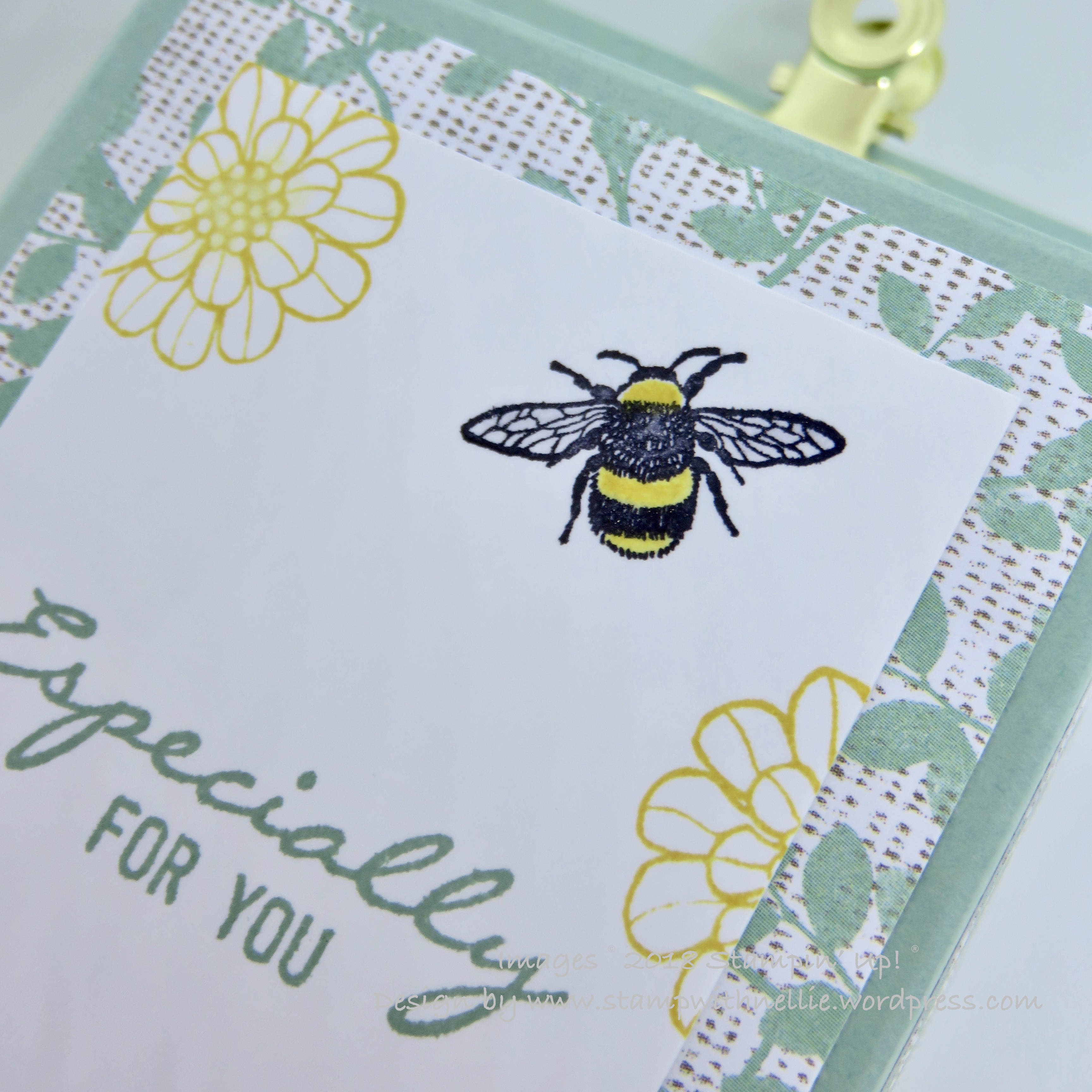 I added  little bit of Wink Of Stella to the bees but my photograph doesn't really show this.
I hope you've enjoyed today's project.  As always, if you have any comments or questions then I'd love to hear from you.  You can comment below or use the Contact Me form in the main menu.
I've listed the products used in today's project below.  If you'd like to purchase any of them please click on one of the images to visit my online Stampin' Up! store.
Happy crafting,
Heather x
Product List