I picked up a packet of 8 pencils with foam grips the other day and thought they would make neat little gifts for kids going to school.  As our school year has just finished and the kids have just started their holidays I must've been thinking pretty far ahead, for a change!
Anyway, as I'd bought them, I thought I'd split the pack up and make 2 gifts for the price of 1…
My pencils were longer and wider than normal due to the foam finger grips, so I needed a box that was at least 7 & 3/4 inches x 1 & 3/4 inches x 1/2 inch. I decided to make a matchbox style where the tray pushes out from the cover.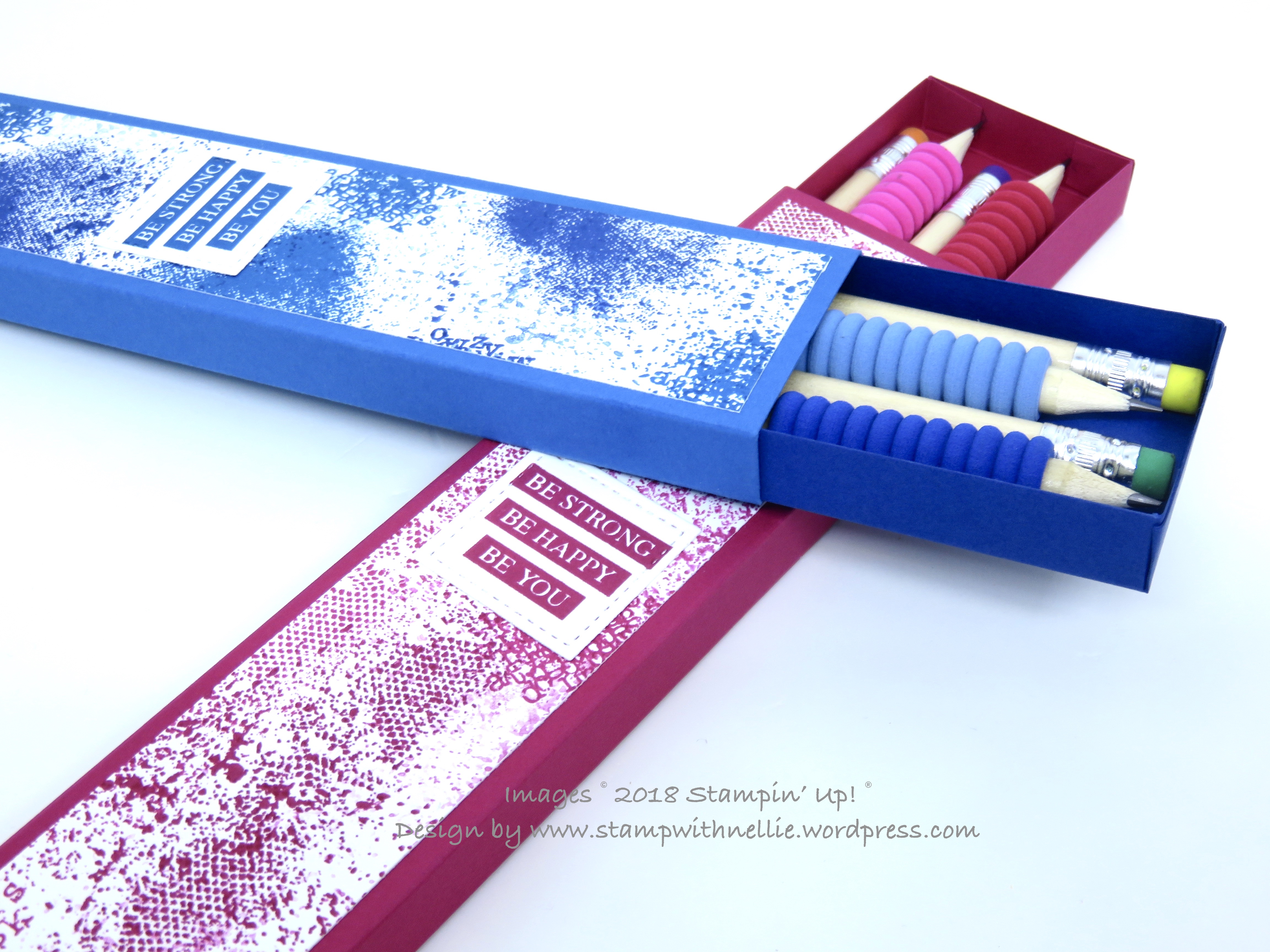 For the tray I used card stock measuring 8 & 3/4 inches x 2 & 3/4 inches.  I scored at 1/2 inch on each side.  I snipped the tabs and glued them to form the tray for the pencils.
For the cover I used card stock measuring 7 & 7/8ths by 5 & 1/2 inches.  On the short side I scored at 1 & 1/4, 1 & 3/4, 3 & 9/16ths and 4 & 1/16th. I used by trimmer for this as my scoreboard only allows for 1/8th intervals.  The reason for using 1/16th measurements is to allow the cover to fit over the tray but not too loosely.
The blue box has a Blueberry Bushel tray, with a Pacific Point cover.  I used both colours of ink to create my own patterned paper for the top of the cover.  This measured 7 & 1/2 by 1 & 1/2 inches.  I used stamps from Touches of Texture to create this pattern.
I chose the BE STRONG, BE HAPPY, BE YOU stamp from Rooted in Nature as I think this is such a lovely message to give to youngsters, especially the BE YOU part!  I stamped this onto Whisper White card and used the smallest square die from the Stitched Shapes framelits.
For the remaining pencils I created the same box but using Lovely Lipstick card stock. I used Lovely Lipstick and Melon Mambo ink on the Whisper White panel and a different combination of the stamps from Touches of Texture.
I hope you've enjoyed this project, I'd love to hear your comments so please leave one below.
I've listed all of the products I've used in this project below.  You can click on any one of them to visit my online Stampin' Up! store if you're in the UK.
Happy crafting,
Heather x
Product List