Hello.  I've not managed to get much crafting time since I came back from my holiday and when I have gone into my craft room I've been a bit like a kid in a sweetie shop.  I've got so many lovely new Stampin' Up! products to play with that I can't decide what to use first.  As a result, there's been a lot of dithering and not much creating!
So, I decided I'd keep it simple with today's project.  I used the new Botanical Bliss stamp set and Botanical Tags thinlets to create this simple 2 layer gift tag…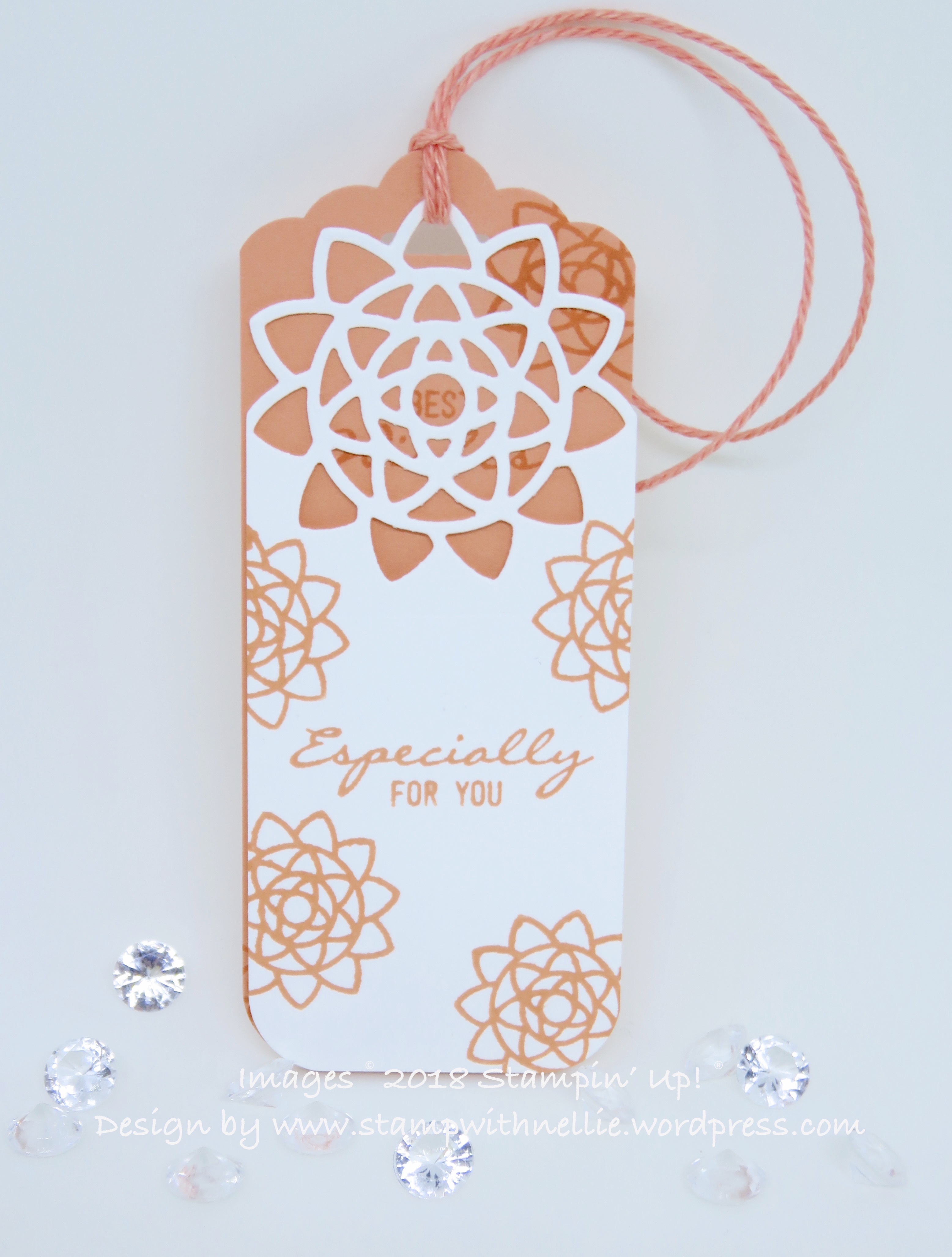 The framelits set has the mandala type of top that I've used here plus a floral one and one with birds.  They're all so different and really beautiful.
The stamp set also has the ones I've used in this example, plus more flowers, leaves and a bird.  I've kept to one theme on my tag but you could easily mix and match these to come up with lots of lovely combinations.  Plus, they don't just have to be used for gift tags.
There are some other edge dies in the set so you can cut out the flower or mandala to give you lots more options.
I think I will use this set lots, but not until I've played with my other toys first!  I'm thinking that perhaps a set of tags in a box would make a nice gift, what do you think?
I decided to use Grapefruit Grove card stock for my base tag and Whisper White for the top layer.   I've stamped using Grapefruit Grove ink on both layers.
Both layers are 2 inches wide. I die cut the top of the Whisper White layer first and then used the Scalloped Tag Topper punch on the Grapefruit Grove layer.  I then lined up the top of the Whisper White layer with the top of the notch on the Grapefruit Grove layer and cut it at 5 inches, measured from the top of the punched tag. I then used my Detailed Trio Punch to round the bottom corners of each layer.
I then did the stamping on each layer then used the Grapefruit Grove twine from the pack of 4 Nature's Twine to join them together and this can also be used to attach the tag to a gift.  This twine pack is only £8.25 for 4 spools, with 4.6m on each spool, in Mint Macaron, Blackberry Bliss, Crumb Cake and of course Grapefruit Grove – great value for money in my view.
I hope you've enjoyed this project.  If you'd like to buy any of the products I've used, I've listed them below and you can click on any of them to visit my online Stampin' Up! shop.
If you have any comments or questions please let me know by commenting below or using the Contact Me form in the menu above.
Happy crafting,
Heather x
Product List