As promised, here's the little gift box I made to coordinate with the Thank You card I shared with you yesterday.
As you can see it was made to fit a lip balm tin (a Vaseline one also fits!) and is kept closed with a ribbon tied in a bow.  The ribbon sits under the embossed panel on top of the box so that it doesn't go astray when the box is opened.
To coordinate with the Thank You card, I used Flirty Flamingo card for the box.  This measured  6 and 3/4  x 3 and 3/4 inches.  On the long side I scored at
3/4 inch
3 inches
3 and 3/4 inches
6 inches
On the short side I scored at
On the long side I cut up each of the score lines and wedged into the smaller ones to use as tabs. I found it easier to assemble the bottom of the box and then glue the final 2 tabs for the top once I'd folded the top down, to get a neat (but not too tight) fit.
The box measures 2 and 1/4 inches square on the base and 3/4 inch high.
I used some of the  leftover Whisper White card I'd dry embossed with the Petal Burst Embossing Folder for the Thank You card, cut to 2 inches square, for the top of the box.  As I mentioned earlier I made sure the ribbon went under it before I glued it down.
The flower is from the Flower Shop stamp set and I used Flirty Flamingo ink on Shimmer White card and then cut it out using my Pansy Punch.  I curled up the petals a little and glued it onto the embossed panel.  Finally I added a Metallic Enamel Shape to the centre of the flower, popped in the lip balm and tied the ribbon in a bow.
I think matching a small gift with a card makes a pretty big impact, I hope you agree…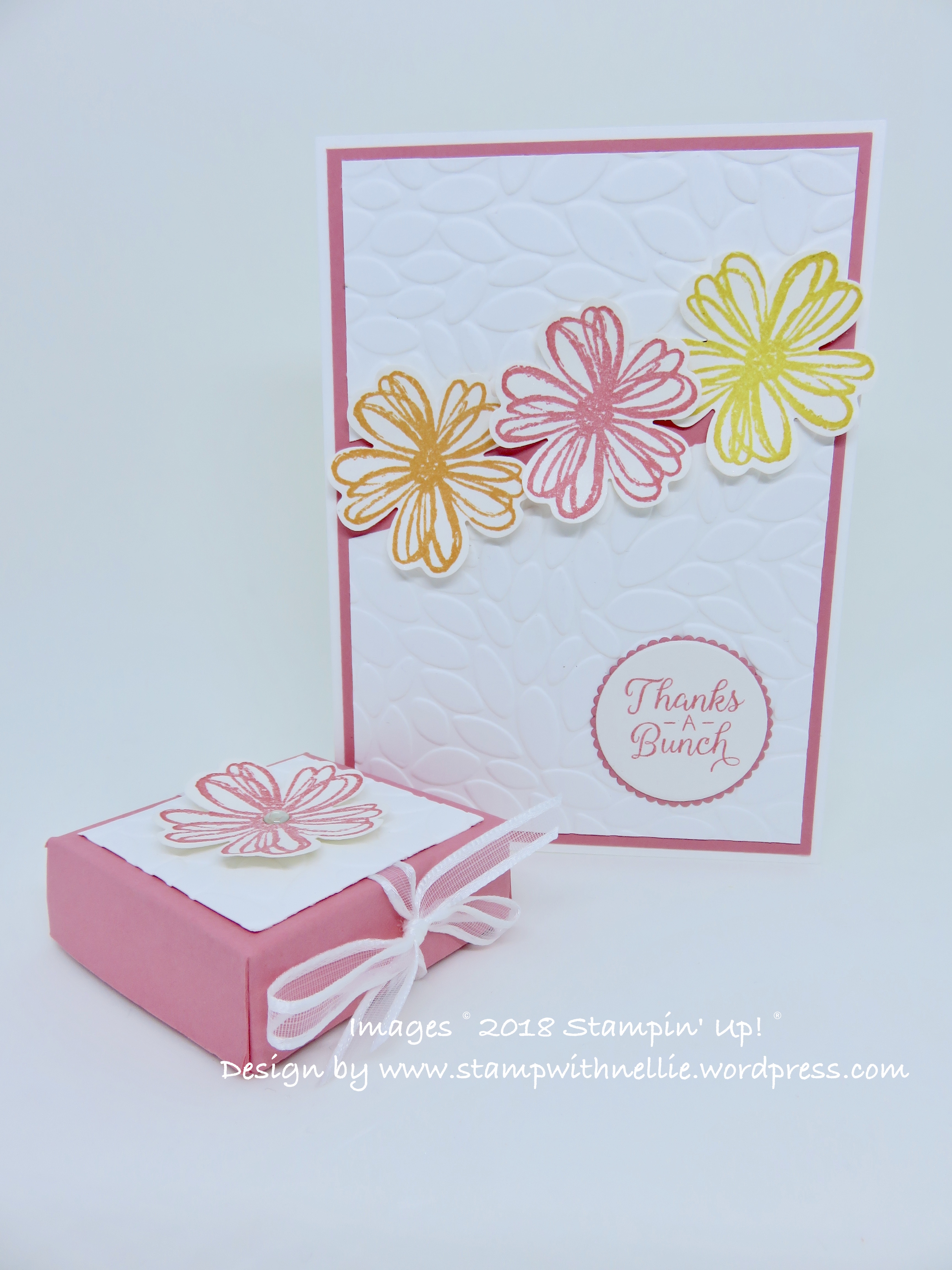 I've listed the products I used to make this project below.  You can click on any of the products to visit my online Stampin' Up! shop.  You can't buy these products in any craft store as they are only available through independent Stampin' Up! demonstrators, like me.  If you're in the UK, I'd be delighted if you decided to shop with me.
All my customers receive a thank you gift and a free copy of the latest catalogues.
If you have any comments or questions please let me know.
Happy crafting,
Heather x
Product List