When I brought out my Detailed Floral thinlets dies the other day it seemed a shame to put them away again after just one project.  I remembered that I'd seen a number of versions on this on Pinterest and thought I'd give it a go…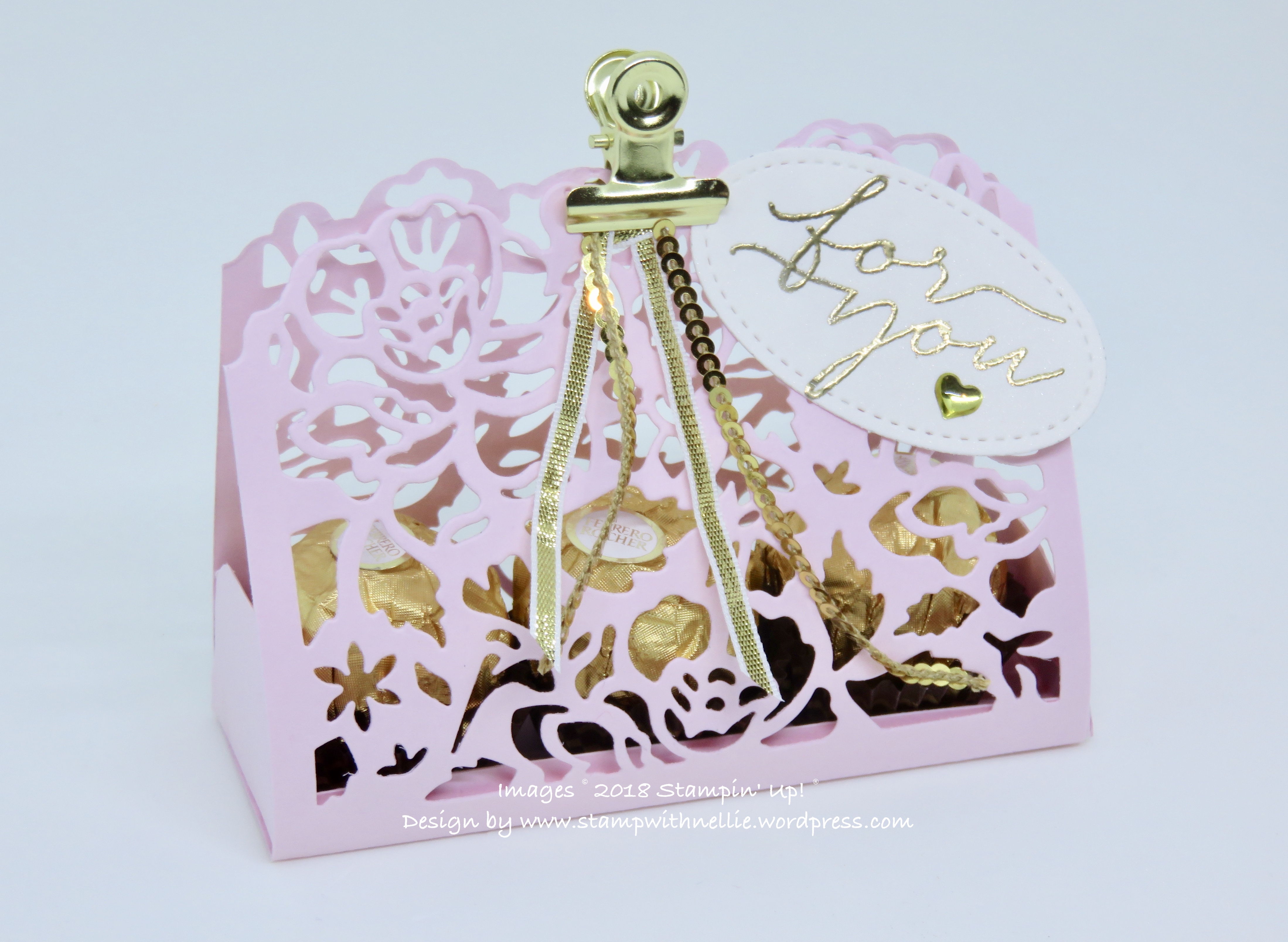 My version is Pink Pirouette and as you can see it's big enough for 3 Ferrero Rocher chocolates.  Some of the versions I'd seen on Pinterest only had 2 but I'd rather use a bit more card to squeeze in an extra chocolate – yum!  My card measured 8.5 x 4.25 inches and was scored at 3.5 & 5 inches.  As you can see I added a little tray in the bottom so that the chocolates don't fall out the end.  The card I used for the tray measured 6.25 x 2 inches, scored at 0.25 & 1.75 inches on the long side & at 1 & 5.25 inches on the short side.  I rounded the corners on each side.
The 'For You' stamp is from the soon to retire Blooms & Wishes set.  I think many of us Stampin' Up! independent demonstrators will really miss this set and it has been really popular with lots of customers too.  I used Gold Stampin' Emboss powder and a Stitched Shape Framelit to cut it out. The final touch was a metallic enamel shape.
To close the box (or is it a bag really?) I used a gold library clip and added some Gold Sequin trim and Gold Ribbon for extra decoration.
I think these would make beautiful wedding favours, what do you think?  Obviously they could be done in any colour to match the wedding theme.
If you'd like to make these I've listed the products used below.  Just click on any of the products to visit my online Stampin' Up! shop.  You can only buy Stampin' Up! products from independent demonstrators; like me!
I'd love to hear from you if you have questions on this project or any Stampin' Up! products.
Happy crafting,
Heather x
Product List